Fox's Enlisted earns some stripes
01/09/14 02:35 PM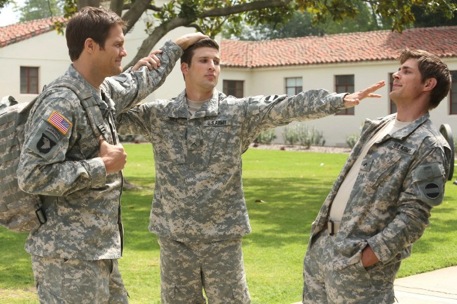 A band of brothers plays it for laughs in Enlisted. Fox photo
Premiering:
Friday, Jan. 10th at 8:30 p.m. (central) on Fox
Starring:
Geoff Stults, Chris Lowell, Parker Young, Angelique Cabral, Keith David
Produced by:
Kevin Biegel, Mike Royce
By ED BARK
@unclebarkycom on Twitter
Military sitcoms, some of them long-serving, range from the gold standard of
M*A*S*H
to the much lower-ranked but still broadly amusing
Gomer Pyle, U.S.M.C.
Fox's
Enlisted
is the first new one in a while, though. And it works surprisingly well as sort of a
Community
in camouflage fronted by a teacher figure and his hapless platoon.
Afghanistan-deployed Sgt. Pete Hill (Geoff Stults) is first seen in a firefight during which his requested "backup" is waylaid by a computer crash back at headquarters. He confronts an officious, bespectacled colonel who retorts, "You signed on to get shot at! So get outta my face, candy ass!"
Pete punches him but doesn't wind up in the brig. Instead he's sent to command a collection of bumblers confined to a Rear Detachment Unit in Fort McGee, Florida. They include his middle brother, Derrick (Chris Lowell), and youngest brother, Randy (Parker Young), who in Episode 2 demonstrates that he still can't recite the plot for
Toy Story
without bawling his eyes out.
"Can't I please go back to war?" Pete pleads in one of the opening episode's more unfortunate lines. But
Enlisted
earns a promotion by the end of the four episodes Fox sent for review. It's goofy but surprisingly smart with its sight gags and one-liners. Episode 3, subtitled "Prank Wars," is the best of the quartet while the second half-hour includes an amusing cooking competition -- "using traditional Army ingredients" --- between Pete and his principal platoon-leading rival, Sgt. Jill Perez (good work by Angelique Cabral).
The show-stealer is Keith David, whose resonant voice has narrated many a Ken Burns documentary film. This time he's heard
and
seen as Sgt. Major Donald Cody, who serves as Pete's boss after serving with his dad abroad. David's character registers in every scene, whether he's chapped by a new computer-savvy lieutenant or grousing, "On with the ceremony. Aw hell, this is a lot of badges."
Enlisted
also aims at relevance in Episode 4, with Cody counseling Pete about Post-Traumatic Stress Syndrome after he sequesters himself in a trailer home to get away from the constant demands of his troops. The sequence doesn't quite work. Nor is it prolonged.
The supporting misfits of
Enlisted
aren't billed as regulars in Fox publicity materials. In fact they aren't even named. But there's some funny stuff here by Tania Gunadi as Private Park and Michelle Buteau as Private Robinson, particularly in Episode 4.
Enlisted
also should be saluted for getting along without a laugh track. Come to think of it, that's worth another stripe, too.
GRADE:
B
Email comments or questions to:
unclebarky@verizon.net