Mad Men's back, but not quite smokin' yet
08/14/09 09:38 AM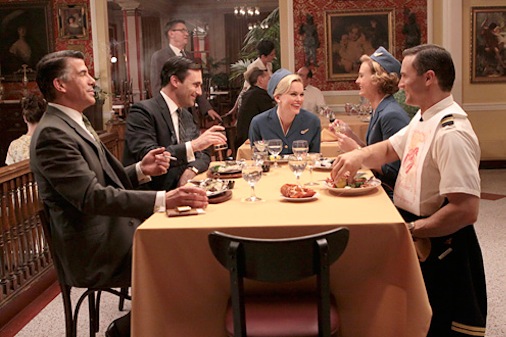 Don Draper and Salvatore Romano wing it under assumed names in "Out of Town" opening for third season of AMC's Mad Men.
By ED BARK
After two superlative seasons,
Mad Men
merits time to marinate, presumably in a tumbler of generously poured straight Scotch.
That's another way of saying that Season 3's first episode (
Sunday, Aug. 16th at 9 p.m. central
) ends up being an ever-so-slight disappointment.
Two of
Mad Men
's three principal women, Betty Draper (January Jones) and particularly Peggy Olson (Elisabeth Moss), are largely extraneous as the action resumes in a post-Cuban missile crisis Manhattan. The main focus instead is on a fence-mending sales trip to Baltimore, where Don Draper (Jon Hamm) and the still-closeted Salvatore Romano (Bryan Batt) reinforce their agency's fealty to the makers of London Fog raincoats. But an on-the-make stewardess and an aggressive bellhop make the trip extra spicy/dicey.
Mad Men
addicts perhaps will expect more, particularly in light of the major developments in Season 2's finale. That's when Betty told prodigal Don of her pregnancy while Peggy informed a stunned Peter Campbell (Vincent Kartheiser) that he's the father of a child she gave up for adoption. From a purely business standpoint, the denizens of Sterling Cooper also learned that their ad agency had been taken over by the British firm Putnam, Powell & Lowe.
The latter development has immediate repercussions when two of Sterling Cooper's young bucks are pitted against one another. We won't say who, because that wouldn't be sporting. In fact it's tough to review this particular episode without being a "spoiler." Much of the beauty is in the details, which won't be divulged in fairness to
Mad Men
viewers.
The episode begins evocatively, with Don boiling milk in the Draper kitchen while in the midst of an early morning reverie that takes him back to the origins of his previous life as Dick Whitman. Operative words: "I'm gonna cut his dick off, and boil it in hog fat."
Betty, for whom he's boiling the milk, is well into her third pregnancy. And Don has the tender touch, even though appearances can always be misleading in his case.
Back at the Sterling Cooper offices, the already full-figured Joan Holloway (Christina Hendricks) seems to be ballooning to almost epic proportions in all vital areas. She's a dirigible without a compass, later telling Peggy, "Oh God, I'm so glad I'm going to be out of here soon." Then again, who knows if she really means it.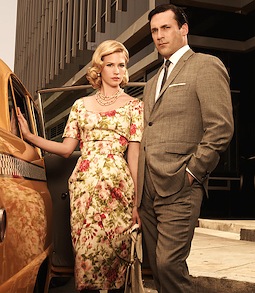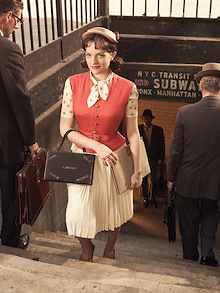 Don and Betty are back together; Peggy remains willfully alone.
The Don-Salvatore road trip, which forms the episode's centerpiece, finds both men taking on aliases and fake occupations after a twang-y stewardess named Shelly (Sunny Mabrey) lures them to dinner and drinks. What happens in Baltimore stays in Baltimore. But some of what happens seems forced and later, contrived. And that's not
Mad Men
's style.
There's also an uncommonly stilted, back-at-the-office scene between a crestfallen Campbell and his wife, Trudy (Alison Brie). The usually very effective Kartheiser, who plays Campbell, seems well off his game during this particular exchange. Jon Lovitz's overblown "Master Thespian" character comes to mind. Maybe the editing's partly at fault, but he's much better than this.
Even so,
Mad Men
remains a cut above at least 95 (make that 98) percent of all that television has to offer. Sunday's third season curtain-raiser has some brilliantly crafted moments as well, including a closing scene with Don, Peggy and their impressionable daughter, Sally (Kiernan Shipka).
Creator Matthew Weiner's impeccable touches throughout the series' first 26 episodes inspire confidence that
Mad Men
will deliver the drama we've come to expect. He's earned the right to tarry a bit, and there's a long haul before the scheduled Nov. 8th Season 3 finale.
For starters, though,
Mad Men
is just a bit lacking. The Don-Betty reconciliation is lightly touched on, but the repercussions of Peggy's bombshell revelation to Peter so far aren't in the picture. They don't even have a scene together Sunday night.
All in good time, we presume.
Mad Men
knows exactly where it's going, right? Let's drink to that.
GRADE:
A-minus