CBS books flight with Supergirl in new fall lineup
05/26/15 12:45 PM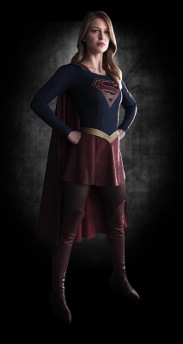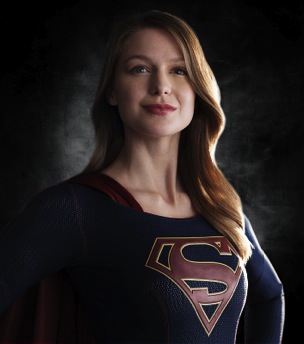 Newcomer Melissa Benoist has the title role in Supergirl. CBS photos
By ED BARK
@unclebarkycom on Twitter
CBS will dip into sister network CW's bag of comic book heroes by taking a flyer with
Supergirl
this fall.
The No. 1 network in total viewers also is adding four other new series to its revised autumn lineup, including a comedy fronted by Jane Lynch playing another super-sassy character after her long tenure on
Glee
.
Canceled are
The McCarthys, Battle Creek, Stalker, The Millers
and
CSI: Crime Scene Investigation
, which will get a two-hour series finale on Sept. 27th with charter cast members William Peterson and Marg Helgenberger returning. Ted Danson, currently with the original
CSI
, will amble over to
CSI: Cyber
to join Patricia Arquette. The grandaddy of the
CSI
franchise premiered in fall 2000 and outlived the cancellations of two offshoots --
CSI: Miami
and
CSI: NY
.
CBS again had a largely successful crop of first-year series, with
Scorpion, NCIS: New Orleans, Madam Secretary, The Odd Couple
and
CSI: Cyber
all getting second-season pickups. The premieres of some new series again will be delayed until November by
Thursday Night Football
. In that vein, the network also will have Super Bowl 50 in February.
Here are CBS' five new fall series.
Supergirl
(drama) -- After 12 years of keeping her powers under wraps, Kara Zor-El (Melissa Benoist) throws a costumed coming out party in the interests of flying high and fighting crime. She otherwise works in National City for a "media mogul and fierce taskmaster" played by Calista Flockhart. New employee James Olsen (Mehcad Brooks) has just been hired from the Daily Planet as an art director. Executive producer Greg Berlanti also is behind The CW's
Arrow
and
The Flash
. So some super-duper crossover episodes are always a possibility.
Limitless
(drama) -- It's adapted from the Bradley Cooper feature film, with Brian Finch (Jake McDorman) newly equipped with the "brain-boosting power of the mysterious drug NZT." Therefore he's coerced by the FBI to help solve tough cases. CBS says that Cooper will be a recurring guest star as senator and presidential hopeful Edward Mora. He also has another financial stake as a co-producer of this series.
Code Black
(drama) -- CBS takes another shot at mounting a successful medical drama with this ER-based heart-pounder. Marcia Gay Harden stars as Residency Director Dr. Leanne Rorish.
Angel From Hell
(comedy) -- Jane Lynch claims to be a guardian angel sent to shepherd a young driven doctor played by Maggie Lawson. Lynch's character is described as "colorful and brassy," traits she perfected during that long haul with
Glee
. Kevin Pollock co-stars as a dermatologist named Marv.
Life in Pieces
(comedy) -- Presenting a laugher without a laugh track (a rarity for CBS) about "one big happy family and their sometimes awkward, often hilarious and ultimately beautiful milestone moments." The cast includes James Brolin, Dianne Wiest and Colin Hanks.
Here is CBS' night-by-night fall prime-time lineup.
MONDAY
The Big Bang Theory
Life in Pieces
Supergirl (starting in November and replacing the two comedies)
Scorpion
NCIS: Los Angeles
TUESDAY
NCIS
NCIS: New Orleans
Limitless
WEDNESDAY
Survivor
Criminal Minds
Code Black
THURSDAY
Thursday Night Football (until November)
The following series then all start or switch nights in November:
The Big Bang Theory
Life in Pieces
Mom
Angel From Hell
Elementary
FRIDAY
The Amazing Race
Hawaii Five-0
Blue Bloods
SATURDAY
Crimetime Saturday
Crimetime Saturday
48 Hours
SUNDAY
60 Minutes
Madam Secretary
The Good Wife
CSI: Cyber
CBS also has announced two midseason series. Here they are.
Rush Hour
(drama) -- This "reimagining" of the hit movies supplants Chris Tucker and Jackie Chan with mark-downs named Justin Hires and John Foo. Wendie Malick (
Hot in Cleveland
) chips in as their "exasperated" boss.
Criminal Minds: Beyond Borders
(drama) -- Yet another spinoff of a successful CBS crime franchise, this one re-deploys Gary Sinese, who previously headed the
CSI: NY
knockoff. He plays unit chief Jack Garrett, a 20-year FBI vet orchestrating rescues of Americans in danger abroad.
Email comments or questions to:
unclebarky@verizon.net