NBC's Chicago Fire not yet burning brightly but rises above flame-out
10/09/12 03:30 PM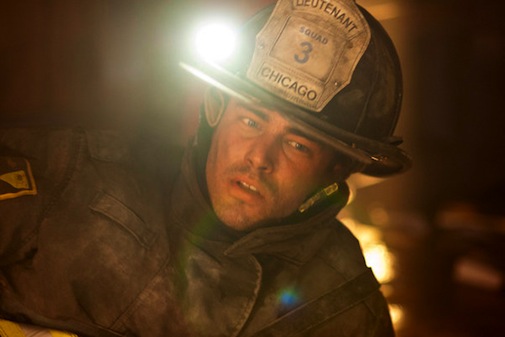 Taylor Kinney is suitably hunky & troubled in Chicago Fire. NBC photo
Premiering:
Wednesday, Oct. 10th at 9 p.m. (central) on NBC
Starring:
Taylor Kinney, Jesse Spencer, Teri Reeves, Monica Raymund, Lauren German, Eamonn Walker, Charlie Barnett, David Eigenberg
Produced by:
Dick Wolf, Derek Haas, Michael Brandt, Peter Jankowski, Danielle Gelber
By ED BARK
@unclebarkycom
This is one in a very occasional series of "for what it is" reviews.
NBC's
Chicago Fire
is unlikely to make anyone's list of the fall season's best new series. But for what it is -- another weekly look at flame-fighters and companion paramedics -- it's not half bad. Not A-OK or even B-OK. But B-minus OK seems about right. Give or take a C+
The principal producer is Dick Wolf, architect of a
Law & Order
franchise that now is in its last gasp with NBC's 14-season old
Law & Order: SVU
. This is his first hook 'n' ladder series, with more continuing story lines than Wolf has ever put into play.
His long-standing mantra has been to self-contain each episode while leaving the regular characters' private lives seldom seen or heard. That way viewers could miss a few episodes without feeling they'd really missed anything at all.
Chicago Fire
, launching Wednesday, dares to include an off-again, on-again relationship between firefighter Matthew Casey (Jesse Spencer) and a medical resident named Hallie (Teri Reeves). Meanwhile, tormented hose-wielder Kelly Severide (Taylor Kinney) is injecting something into his upper arm from week to week with help from lesbian paramedic Leslie Shay (Lauren German), who keeps vowing to stop supplying him.
Kinney played a San Francisco paramedic in the 2009-'10 NBC series
Trauma
. So he's used to answering alarms, springing into action and then getting introspective. In Episode 1 of
Chicago Fire
, he's primarily resentful of Casey, blaming him in part for the burning building death of a close friend named Andy Darden. He's so resentful, in fact, that a month later he still won't touch the tasty corned beef that Casey has carefully prepared for Firehouse 51's nightly group dinner.
Other weekly characters include firm but fair battalion chief Wallace Boden (Eamonn Walker); veteran fireman Christopher Herrmann (David Eisenberg); rookie firefighter Peter Mills (Charlie Barnett) and paramedic Gabriella Dawson (Monica Raymund), who retains a case of the slow, simmering hots for Casey. There's a bit of irreverence to be had, but nothing in the vicinity of FX's
Rescue Me
. (Which in truth could be more than a little excessive.)
The premiere episode has more than one telegraphed punch and plenty of pounding drum music as trucks roar to the scenes of fires and other rescue opportunities. But next week's hour, subtitled "Mon Amour," is better rendered and includes a genuinely affecting closer between Severide and a grateful survivor.
Severide and Casey both manage to take their shirts off in the line of duty -- or not. Both show they're ready-made for Starz's
Spartacus
. Just about every regular character is stunningly handsome or beautiful, save for a somewhat dumpy firefighter dubbed "Otis" (Yuri Sardarov). He's mostly used for comic relief, but could easily be burned to a crisp at some point.
The cast seems capable enough, and
Chicago Fire
's action scenes are both plentiful and well-produced. Add a cameo from Chicago mayor Rahm Emmanuel in Wednesday's premiere, even though he gets no audible speaking lines.
Scheduled directly opposite ABC's
Nashville
, fall's best new series, this seems like a serviceable drama that merits a bit better ladder grade (heh-heh) for an improved second hour. So onward and upward perhaps, with
Chicago Fire
at least potentially rising to the level of some of its weekly rescue climbs.
GRADE:
B-minus
unclebarky@verizon.net