New on the menu at ratings-famished NBC: America's Next Great Restaurant
03/04/11 08:12 AM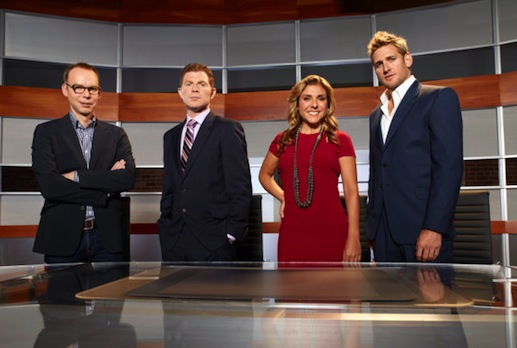 The investors/judges on America's Next Great Restaurant are (from left) Steve Ells, Bobby Flay, Lorena Garcia and Curtis Stone. NBC photo
Premiering:
Sunday, March 6th at 7 p.m. (central) on NBC
Starring:
Bobby Flay, Curtis Stone, Lorena Garcia, Steve Ells
Produced by:
Dan Cutforth, Jane Lipsitz, Ross Jacobson, Nan Strait, Amy Chacon
By ED BARK
Absent those prime-time NFL games, NBC and ratings-starved go hand in hand on every night, in every time slot.
Fittingly then, here's a new food show. Unfortunately for the Peacock, though, Sunday's premiere of
America's Next Great Restaurant
is almost certain to be third in the reality series pecking order opposite ABC's far more emotionally charged
Secret Millionaire
(which also launches Sunday) and CBS' well-established
The Amazing Race
. So let NBC eat gruel again, even if the initial 21
Next Great Restaurant
contestants are serving up the likes of "Saucy Balls," gourmet grilled cheese sandwiches and "healthy wraps with organic ingredients that customers build themselves."
That last entree is from the show's lone Texan, Dallasite Fran Harris. In an earlier life she played on the WNBA's first championship team, the 1997 Houston Comets. Now she's trying to persuade this show's four investors/judges to fund the opening of The Sports Wrap in New York, Los Angeles and Minneapolis. That's the grand prize awaiting the winner of this concoction, with opening day scheduled on May 1st. But in reality, how much is that worth on a network being watched by fewer and fewer potential customers?
Next Great Restaurant
is a bit unwieldly for openers. There are too many cooks and not enough time for their presentations before the field is winnowed from 21 to 10 by ubiquitous chef Bobby Flay; "renowned" chef Curtis Stone (NBC's
The Biggest Loser
); executive chef/restaurateur Lorena Garcia; and Steve Ells, who started the Chipolte restaurants from scratch.
Supplicants must each make a representative dish within a specified time limit (
Iron Chef
, anyone?) and then defend it in a format that's very similar to ABC's
Shark Tank
. The four judges taste, critique and decide pretty quickly in most cases. The kiss-off line is "I'm sorry. We will not be investing in your restaurant." But yes, Ells actually tells one of them, "I just think you're biting off more than you can chew." Burp.
The show needlessly positions one contestant as a borderline racist. A cocksure guy named Joe (no last names are given) fancies himself a chicken expert. So does a guy named Jamawn, prompting Joe to remark, "Black guy, of course. That's what they do is wings."
It doesn't take any TV IQ at all to deduce at this point that Joe will put the judges off their feed, but Jamawn won't. "I'm not trying to talk bad about the guy, but he was a jerk," Jamawn eventually observes.
The "Saucy Balls" guy is bada bing Joey from Brooklyn, who plans to give his restaurant that name and whose meatballs are made from his grandma's recipe. NBC is the network of
Saturday Night Live
's famed "Schweddy balls" Christmas sketch with Alec Baldwin. So it's hardly a surprise when judge Stone comes up with the inevitable, "I can't believe I'm going to say this, but I love your balls."
Next Sunday's second hour picks up considerably. The 10 remaining contestants each must make enough food for 1,000 tourists assembled at Universal City Walk, part of the NBC Universal-owned theme park. The judges are on hand to rev up the crowd and then visit the concession stands to offer input. Eaters vote for their favorite food by depositing a coin in one of 10 glass jars, with the winner exempt from elimination.
The judges' critiques are both instructive and constructive in this episode. There's no resident Simon Cowell here, nor even a Britisher. So all in all, "your very first big lunch rush," as it's described, is fun and interesting to watch.
Next Great Restaurant
will serve as an appetizer for NBC's latest edition of
The Celebrity Apprentice
, which is being served weekly in two-hour portions. The newcomer is unlikely to provoke much dinner table conversation, but goes down easily enough while trying not to leave any really bitter aftertastes. That's the job of
Celebrity Apprentice
, which just so happens to have Meat Loaf on its menu this season. Um, pass the Saucy Balls.
GRADE:
C+