New vistas in hypocrisy: NBC's renewed coziness with Donald Trump
10/27/15 12:31 PM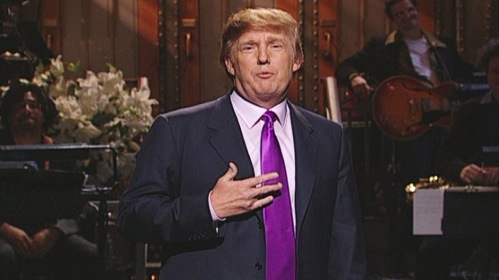 Donald Trump in earlier Saturday Night Live hosting stint. NBC photo
By ED BARK
@unclebarkycom on Twitter
Believe it or not, this has nothing to do with Donald Trump's politics.
But it has everything to do with NBC's remarkable inconsistency regarding the Republican presidential candidate's controversial statements on Hispanics and illegal immigration.
This is the same network that very publicly washed its hands of Trump in late June by dumping the Miss USA and Miss Universe pageants, both of which he owns. Less than four months later, NBC announced that Trump will host the Nov. 7th edition of
Saturday Night Live
. The program is now certain to be picketed by outraged Latino advocacy groups while NBC also can certainly expect "huge" ratings, as Trump has put it
ad nauseum
. Not coincidentally, it will be the first new
SNL
of the November "sweeps" ratings period.
NBC so far has declined to comment, a cowardly stance in comparison to the stinging rebuke it issued in connection with Trump's build-a-wall-to-keep-all-those-crooks-and-rapists-out stance on illegal immigration.
"At NBC, respect and dignity for all people are cornerstones of our values," the network piously said at the time. "Due to the recent derogatory statements by Donald Trump regarding immigrants, NBC Universal is ending its business relationship with Mr. Trump. To that end, the annual Miss USA and Miss Universe pageants, which are part of a joint venture between NBC and Trump, will no longer air on NBC. In addition, as Mr. Trump has already indicated, he will not be participating in
The Apprentice
on NBC."
The network since has hired Arnold Schwarzenegger, who comes with his own baggage, to helm
The Apprentice
, a production of "reality competition" maestro Mark Burnett (
Survivor, The Voice, Shark Tank
). Meanwhile, Trump suddenly has gone from
persona non grata
to fair-haired boy -- hair notwithstanding.
NBC Universal's love of all things Trump has deepened to the point of unconscionable absurdity. On Monday, the
Today
show and Matt Lauer hosted a live "pancakes and politics" town hall meeting with Trump from New Hampshire.
On Oct. 16th, CNBC knuckled under to Trump's threat to boycott the network's Oct. 28th Republican presidential candidate debate if it wasn't capped at a maximum of two hours, including commercials. Trump and his ally in this threatened no-show, Dr. Ben Carson, also insisted that opening and closing statements be included. CNBC acquiesced to that demand, too. Had it only been Carson raising a stink, CNBC almost certainly would have stuck to its original game plan. But when Trump's at the forefront, well, let's not even thinking of having a debate without him. Would "The Donald" also prefer to sit on a throne rather than stand at a lectern? We can make that happen.
MSNBC got in on the act during Tuesday's
Morning Joe
, which had an extended live phone interview with Trump. Did Joe Scarborough, Mika Brzezinski and their coterie of seasoned, camera-hungry politicos even broach the question of Trump's
SNL
hosting duties? Certainly they should have. But no, it never came up. Clearly everyone had their marching orders and they all collegially called him "Donald." For shame. You couldn't find a better batch of corporate suck-ups.
The about-face on Trump comes from a network whose top programming executive is the openly gay Robert Greenblatt. Just a few days before initially banishing Trump, Greenblatt issued a statement praising the U.S. Supreme Court ruling that prohibits states from banning gay marriage.
"As the head of a broadcast television network and a gay man, I celebrate and applaud" the ruling, Greenblatt said in part. "To some degree I'm surprised the decision wasn't more one-sided because public opinion already seemed to be overwhelmingly there . . . I'm privileged to work in an industry that has always worked to portray positive images of LGBT people and tell their human stories, which I believe has played an important part in advancing the conversation. It's a great day for equality."
One wonders if Greenblat would have signed off on Trump hosting
SNL
had he denounced the Supreme Court decision on gay marriage and pledged to "fix" it. It's Trump's First Amendment right to take any political position he pleases. But NBC really doesn't have a leg to stand on when it first cuts Trump off at the knees and then reverses course without any accompanying explanation.
Trump certainly hasn't reversed his position on immigration or even conceded that he might have used better language in stating it. And if NBC hadn't reacted so emphatically, it wouldn't now be in a blatantly hypocritical position of its own making.
The Peacock also could be subject to "equal time" provisions if it sticks to its plan of treating Trump like a king on
SNL
. This almost assuredly won't happen, but here's what I wish upon NBC: a succession of
SNL
s hosted in no particular order by Carson, Mike Huckabee, Ted Cruz, Jeb Bush, Rand Paul, Marco Rubio, John Kasich, Carly Fiorina and Chris Christie.
Besides Trump, these are the nine candidates who made the cut for CNBC's debate. Unfortunately for them, they haven't had the good fortune to recently be denounced and written off by NBC. Because that apparently would only enhance their chances.
One last point: NBC also is the network that last fall terminated plans to do a new Bill Cosby sitcom after dozens upon dozens of women came forward to allege he'd drugged and sexually molested them. It would be incomprehensible to think that NBC might welcome Cosby back to host
SNL
this season. Or would it? After all, think of the . . . ratings.
Email comments or questions to:
unclebarky@verizon.net