Rake: Fox's latest import is also a Greg Kinnear first
01/21/14 01:09 PM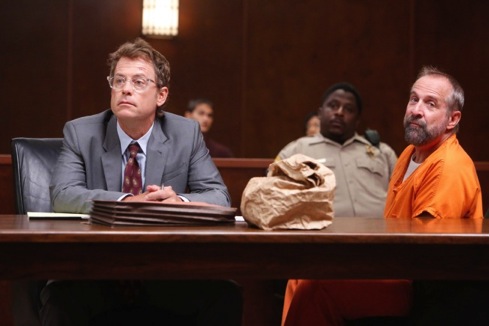 Greg Kinnear and guest star Peter Stormare in Rake. Fox photo
Premiering:
Thursday, Jan. 23rd at 8 p.m. (central) on Fox
Starring:
Greg Kinnear, Miranda Otto, John Ortiz, Necar Zadegan, Bojana Novakovic, Tara Summers, David Harbour, Ian Colletti
Produced by:
Peter Tolan, Michael Wimer, Richard Roxburgh, Ian Collie, Sam Raimi
By ED BARK
@unclebarkycom on Twitter
Had an original thought or idea lately? It might be best to downplay that when it comes to American television.
Fox's
Rake
, premiering Thursday, Jan. 23rd after
American Idol
, is only its latest import from abroad. The incubator this time is Australia, where a third season of
Rake
is due later this year.
Fox by no means is alone in this. Still, the network already has a flotilla of series hatched elsewhere, including
Idol, The X Factor
, and all of its Gordon Ramsay cooking shows. The upcoming scripted series
Us & Them, Backstrom
and
Gracepoint
likewise originated abroad before Fox bought in.
Rake
does have the thoroughly American Greg Kinnear in the starring role. Other than cable's
Talk Soup
, it's his first regular TV series after a fairly gainful career on the big screen.
Kinnear plays criminal defense attorney Keegan Deane, who's billed in Fox publicity materials as "one of life's great addicts." But he's mostly a gambler in hock to his bookie to the tune of $59 grand. This results in Keegan getting roughed up in a sports bar restroom after his team has just won big. He emerges with two facial cuts and a knockout Asian woman on his arm. They head to a very posh looking party where he plays poker all night and hits the jackpot before learning that the biggest loser is a deadbeat just like him.
Further misadventures ensue while other character introductions are made. Keegan's ex-wife Maddy (Miranda Otto) doubles as his therapist. They have a teenage son named Finn (Ian Colletti), who appears to be more like dad than mom.
Keegan's old law school pal, Ben Leon (John Ortiz), regularly allows him to sleep off hangovers at his place. Ben happens to be married to assistant district attorney Scarlet Leon (Nacar Zadegan), who more often than not squares off against Keegan in court. In a very busy first episode, you'll also meet Keegan's loyal British office assistant, Leanne Zander (Tara Summers), and his "love interest," Mikki Partridge (Bojana Novakovic), who's also a prostitute.
Other plots and sub-plots are numerous as well. Let's try to play along:
***
Keegan's car is towed away.
***
Keegan gets stopped by a cop for a busted taillight.
***
Keegan and son Finn get rear-ended during a driving lesson.
***
Keegan gets stuck with a Pacific Bluefin tuna -- as a method of payment -- that supposedly will be worth at least $15,000 to the right sushi restaurant buyer. He keeps dragging it around in a cooler.
***
Keegan represents an accused serial killer (guest star Peter Stormare) who surprises him by pleading not guilty.
***
Keegan then goes after a police chief (guest star Bill Smitrovich) who's accused by the defendant of coercing confessions to make a name for himself.
***
Keegan appears on the real-life Greta Van Susteren's
On the Record
show.
***
Keegan saves money by switching his car insurance to Geico.
OK, the latter development hasn't happened yet. But this is still a lot of balls to juggle, even when everything is played pretty easy and breezy.
Kinnear carries himself ably, and his character's amiable rogue presence wears fairly well for starters. The long haul may be problematic, though.
Rake
perhaps can only mess around so much before viewers look for signs of a stronger, sturdier foundation. Even serial killing is something of a joking matter in Thursday's mood-setter, which ends in rather ridiculous fashion. But let's see how
Rake
shakes out -- and whether it can get viewers to take it at least a little bit seriously.
GRADE:
B-minus
Email comments or questions to:
unclebarky@verizon.net