The Thundermans gives Nickelodeon a breath of fresh superpowers
11/01/13 10:00 AM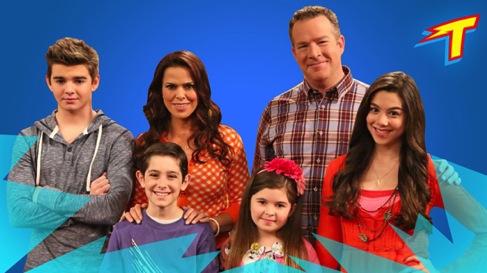 Meet mom, dad and the Thunderman kids, all with a super power.
Nickelodeon photo
Premiering:
Saturday, Nov. 2nd at 8 p.m. (central) on Nickelodeon
Starring:
Kira Kosarin, Jack Griffo, Addison Riecke, Diego Velazquez, Chris Tallman, Rosa Blasi
Produced by:
Jed Spingarn, Dan Cross, David Hoge
By ED BARK
@unclebarkycom on Twitter
Hey hey, it's
The Thundermans
.
Little Barky likely would have liked this show. Grizzled Barky keeps repeating to himself, "Remember who it's aimed at, remember who it's aimed at . . ."
Premiering Saturday, Nov. 2nd on Nickelodeon,
The Thundermans
has a very loud laugh track, high energy, bright colors and some surprisingly zippy special effects to help sell the notion that this is a family equipped with various super powers, all of which they're trying to hide from the real world.
We don't know how they got them. But take it from the bouncy-bounce theme song, the Thundermans are "just your average family trying to be normal and stay out of trouble, living a double life."
Mom, dad and the four kids lately have moved to the conveniently named "Hiddenville," where their secrets for now are safe. And just what are those secrets? Here we go:
Fraternal teen twins Phoebe and Max (Kira Kosarin, Jack Griffo) are both equipped with "freeze breath" and telekinesis.
Younger bro Billy (Diego Velasquez) zips around at super speed.
Little sis Nora (Addison Riecke) can cut through solid objects with her laser beam eyes.
Dad Hank (Chris Tallman), who of course is something of a buffoon, has both super-strength and the ability to fly.
Mom Barb (Rosa Blasi) is able to emit lightning bolts from her hands.
In the premiere episode, mischievous Max happily pranks his sister, sending showers of chocolate and cheese onto her head while she's posing on high school picture day. She vows to get even by coming up with "the best prank ever."
Max, who for some reason also aspires to be a "super villain" someday, regularly uses an in-home slide to descend into his "lair," which includes a talking rabbit in a cage. Meanwhile, Dad blusters as best he can. "We have four kids. There is always reason to yell," he reasons.
In a second episode sent for review, Phoebe and Max are assigned to babysit their younger siblings while Hank takes Barb out to dinner. None of this goes very well, especially when Phoebe violates Dad's edict of "no non-supes in the house" by inviting a live-wire high school friend named Cherry, who wears a "Trending" tank top.
The two Thunderman daughters are more fun than the boys, at least in these two early half-hours. Little Addison Riecke does a nice job with her tart dialogue while Kira Kosarin is winningly and constantly exasperated with Max. Chunky Dad tries not to fly off the handle but can't resist flying through the roof when he has cravings for foods from faraway places.
Parents of kiddoes, tweens and young teens can be assured that all of this is quite harmless, but can be used as a bribe. As in, "Get your homework done or there won't be any
Thundermans
this weekend!" With Little Barky, that probably would've worked.
GRADE:
C+
Email comments or questions to:
unclebarky@verizon.net