Fox's Mob Doctor: take two shivs and call me in the morning
09/12/12 12:01 PM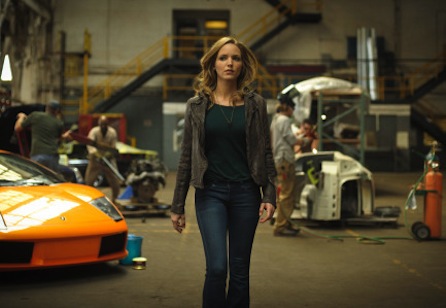 Jordana Spiro tries to walk a line in The Mob Doctor. Fox photo
Premiering:
Monday, Sept. 17th at 8 p.m. (central) on Fox
Starring:
Jordana Spiro, Zach Gilford, Zeljko Ivanek, William Forsythe, Jaime Lee Kirchner, Floriana Lima, Wendy Makkena, Jesse Lee Soffer
Produced by:
Josh Berman, Rob Wright
By ED BARK
@unclebarkycom
Fox has grown accustomed to having a Monday night doctor in the house. It's where
House
took up residence for much of its eight-season run.
Now comes
The Mob Doctor
, a notably inferior exercise in dese, dems and doses. It premieres on Monday, Sept. 17th following the long-established
Bones
on its new night and time. Which means that this preposterous mix of syringes and shivs might get a decent audience sampling on opening night.
Jordana Spiro (of TBS'
My Boys
) is center stage as star medical resident Grace Devlin. She owes a debt to the Chicago mob after her gambling brother Nate (Jesse Lee Soffer) was granted at least a temporary stay of execution. So it's a little unsettling when Dr. Grace gets a nice basket of balloon flowers with a card reading, "Kill Him."
The would-be operating room victim is a mob informant named Ralph Severino, who's going under the knife for a life-saving operation. Dr. Grace is strongly urged to inject him with a lethal dose of medication via a labeled syringe that somehow has been smuggled into the operating room by another apparent mob stooge.
Wow, do ya think she actually might go ahead and do it? Don't worry, the suspense won't kill ya. Because a weekly broadcast network drama series can't subsist on a lead character who caves into the mob on a weekly basis rather than resisting with all her might while covering up all those threatening in-hospital cell phone calls with variations on "Gotta go." As with Fox's late, oft-great
24
, this is a drama that greatly depends on wireless technology.
Dr. Grace's colleagues, all of them in the dark, include Roosevelt Medical chief of surgery Stafford White (Emmy-winning Zeljko Ivanek from
Damages
); a boyfriend doc named Brett Robinson (Zach Gilford of
Friday Night Lights
); officious rival doc Olivia Wilcox (Jaimie Lee Kirchner); super-officious veteran surgeon Ian Flanigan (David Pasquesi); and best friend nurse Rosa "Ro" Quintero (Floriana Lima).
That's a lot of characters to track. And we haven't even gotten to the mob yet. Or Dr. Grace's prototypically meddling, high-strung mom Daniella (Wendy Makkena), who notes for no particular reason in the early going that a mutual acquaintance "ran off with our lesbian butcher."
Intimidating Dr. Grace throughout most of the premiere episode is over-the-top mobster Paul Moretti (guest star Michael Rappaport). But she may or may not have an ally in ring-wise Constantine Alexander (William Forsythe), described in Fox publicity materials as "an oddly compassionate killer" who wants to retain his position as head of the Southside Chicago "organization" after recently exiting prison.
"You've always been like family to me, Grace," he says. Why so?
Mob Doctor
doesn't get around to really explaining that during the course of an episode that includes a climactic car chase in which Dr. Grace and Moretti both wind up at the doorstep of Constantine's mansion. There also are two other medical cases shoe-horned into the first episode.
Spiro seems to be trying hard to keep this thing spinning, even maintaining a straight face when presented with this groaner: "I realize you're a plucky Southside girl who became a big city doctor." But her best efforts as the title character aren't nearly enough to overcome all of the hokum at hand.
Mob Doctor
is one of those classically bad concepts that somehow got green-lighted as a series. Could there be a real-life mob hit out on a top-level Fox programming exec?
Let's hope not, because entertainment chairman Kevin Reilly is a good guy whom most of us TV critic types would like to keep around.
GRADE:
C-minus