Oscar audience grows from last year's all-time low
02/23/09 02:00 PM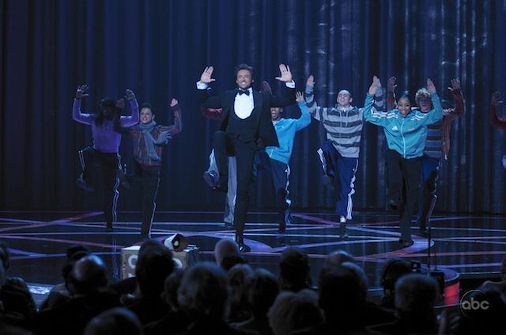 C'mon, get happy: Oscar ratings up from last year's low. ABC photo
By ED BARK
Sunday night's 81st Oscar ceremony on ABC kicked up a few notches in the national Nielsens, averaging 36.3 million viewers during its three-and-a-half-hour running time.
That's a nice boost from the all-time low 32 million viewers who watched last year's telecast, according to Nielsen Media Research. ABC says the Oscars, hosted by Hugh Jackman, also grew by 13 percent among advertiser-coveted 18-to-49-year-olds.
Although impressive in an increasingly diverse multi-channel/web-footed universe, Sunday's audience is still the third lowest since Nielsen began tabulating total viewer numbers in 1974. Besides 2008's, only the 2003 ceremony had fewer viewers (33 million). And that year's festivities occasionally were interrupted by war bulletins from Peter Jennings at the outset of the U.S. march toward Iraq.
Still, Sunday night's Oscars outdrew Fox's season-opener of
American Idol
, which wasn't the case last year.
The 1998 Oscar-cast remains the most-watched ever, according to Nielsen. That's when 55.3 million viewers tuned in to see
Titanic
sink the competition.