Kath & Kim: at best it stinks
10/08/08 05:25 PM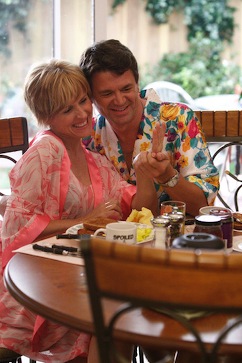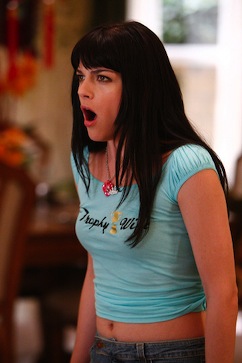 Kath's in love; daughter Kim's an abhorrent bitch. Next question?
Premiering:
Thursday, Oct. 9th at 7:30 p.m. on NBC
Starring:
Molly Shannon, Selma Blair, John Michael Higgins, Mikey Day
Produced and written by:
Michelle Nader
By ED BARK
"Would it make you feel better if you got up and made us some nachos?"
This is Kim Day's way of reaching out to enabling mom Kath after putting on a behavioral display that damn near merits a congressional investigation.
Then again, most viewers may not get that far. The urge to click to something more pleasant --
Saw IV
maybe -- is nigh unto overpowering throughout Thursday's premiere of NBC's new
Kath & Kim
. I'm trying to be charitable.
Desperately adapted from an Australian sitcom, this half-hour from hell co-stars
Saturday Night Live
alum Molly Shannon (who's really a very nice person off-camera) and Selma Blair (
Hellboy 2
).
Basically put, Kim is a contemptible, whiny, super-indulgent home- and happiness-wrecker who runs back to momma after fleeing a six-week marriage that just asked too much of her.
"I didn't sign up for cooking dinner or being interested in how anyone's day was," she explains.
This later prompts abandoned hubby Craig (Mikey Day) to plead, "Maybe you can microwave dinner once in a while?" But no, this remains an irreconcilable difference.
Meanwhile, affection-starved Kath finally has met "my knight in shining armor," Sandwich Island owner Phil Knight (John Michael Higgins). He's lost copious weight of late, prompting Kim to ask, "Do you have any pictures of you as a load?"
Kim's one-joke cloak chokes any life out of NBC's lone new fall comedy. So much so that the sap-happy Kath-Phil relationship -- his tolerance for Kim's guff is bottomless -- actually comes off as endearing. Actually, let's downgrade that to "palate-cleanser."
Kath & Kim
is described in NBC press materials as the saga of a "hilarious and iconoclastic mother-daughter duo" immersed in a "love/hate, push/pull dysfunctional relationship that only a mother and daughter could share."
The hilarity lasts about as long as Kim's opening whine on the state of her marriage: "It's over. O-V-U-R."
No wonder NBC keeps replaying that line in its
Kath & KIm
promos. Basically, it's all they've got.
Grade:
D (on the curve out of sorrow and pity for Molly Shannon)