Acid redux: VH1's Monterey 40 is worth a trip
06/15/07 12:15 PM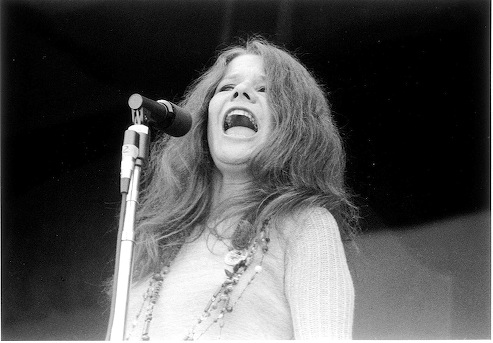 Janis Joplin roared into view at '67's Monterey Pop Festival.
By ED BARK
The Avis of music festivals really shouldn't be.
Turning 40 this month, 1967's Monterey International Pop Festival pre-dated Woodstock by more than two years. Yet it's still a relative shadow player despite launching the careers of Janis Joplin, Jimi Hendrix and Otis Redding.
That alone is almost enough said. But Monterey also brought The Who to stateside prominence during a three-day blowout garnished with performances by The Byrds, The Grateful Dead, Jefferson Airplane, Buffalo Springfield, Canned Heat, Simon and Garfunkel, The Animals, Booker T and the MGs, Ravi Shankar and The Mamas & The Papas. It was no slouch, which you'll see in VH1's
Monterey 40
(Saturday, June 16th at 8 p.m. central).
The one-hour film, airing under the network's "Rock Doc" banner, both recaptures the festival and recalls it via fresh interviews with the likes of Shankar, David Crosby, Grace Slick, Michelle Phillips, Pete Townsend, record industry magnate Clive Davis and
Rolling Stone
founder Jann Wenner. From what they can remember it was great to be alive on that storied mid-June weekend in Northern California.
LSD, pot and various other refreshments put both the crowd and musicians in altered states. The Who's Townsend smashed his guitar to smithereens back when that was both a shocking and electrifying development.
Hendrix lit his ax on fire after dry-humping it, a sight that "disturbed me very much," Shankar recalls.
Redding signed, sealed and delivered some searing soul music after incongruously being introduced by Tommy Smothers. And Joplin blew everyone away with the bubblin' crude vocals of a howlin' she-wolf.
"She put that festival in her pocket and walked off with it," says Crosby, who's now white-haired, a bit slimmer for a change and amazingly still ticking.
Crosby was with The Byrds back then. And he enraged band leader Roger McGuinn by first vocalizing his feelings on the Kennedy assassination.
"He was shot from a number of different directions by different guns. The story has been suppressed," Crosby told an approving crowd before The Byrds began singing in perfect harmony.
Organized by Mamas & Papas lead singer John Phillips and producer/promoter Lou Adler, the Monterey event at first was envisioned as a rock summit uniting the Los Angeles and San Francisco music scenes. It became much bigger than that, both as a star-making event and a utopian "summer of love" curtain-raiser.
There were no arrests or overdoses at Monterey, at least none that were documented. Musicians hung out backstage and jammed with one another or simply joined the crowd to groove on one of the acts.
Politics were played, too. Townsend and The Who adamantly refused to follow Hendrix on the festival's closing day, knowing full well he'd completely upstage them. And Joplin's band, Big Brother & the Holding Company, at first refused to be filmed in any way by director D.A. Pennebaker, whose
Monterey Pop
is now a classic.
Joplin's Saturday performance thus went undocumented. But she pitched a fit and prevailed, returning to the stage the following day with the cameras allowed to roll. Imagine what a hollow document Pennebaker would have had without her.
We also see The Association incongruously opening the festival in coats and ties while singing "Along Comes Mary." Its closing act, The Mamas & the Papas, had earned that right because of John Phillips' yeoman efforts to make Monterey happen. But his wife at the time, singer Michelle Phillips, says the band was out of sorts and unable to rise to the occasion.
"My feeling was that we had done a really rotten show," she remembers.
Still, she's demonstrably proud to have been there and tearful at the thought that Hendrix, Joplin, Redding and "the movement" turned out to be so short-lived.
Monterey 40
and Pennebaker's film show that all of them were once very real and genuine. And never better.
Grade:
B+