HBO has the damndest thing in The Young Pope
01/12/17 01:12 PM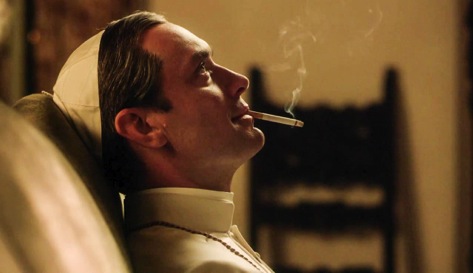 Puffs of smoke are not only from the Cardinals' conclave in The Young Pope. Jude Law otherwise goes defiantly unfiltered. HBO photo
Premiering:
Sunday, Jan. 15th at 8 p.m. (central) on HBO
Starring:
Jude Law, Diane Keaton, Silvio Orlando, Javier Camara, James Cromwell, Scott Shepherd, Ludivine Sagnier, Cedile de France, Marcello Romolo
Created, directed, written, produced by:
Paolo Sorrentino
By ED BARK
@unclebarkycom on Twitter
Holy smokes, what will American audiences make of
The Young Pope
, which already has been underway in Italy since late October?
Beginning Sunday, Jan. 15th, HBO is the U.S. carrier of this distinctly different and sure to be controversial vision from
Paolo Sorrentino
, its creator, writer, director and head executive producer. Contrary to what the promotions might imply, though, 47-year-old Pope Pius XIII (Jude Law) is no amoral hell raiser running scandalously amok in Vatican City. The new guy, end result of a Cardinals' conclave compromise gone very awry, is rigidly insular and determined to return the Catholic Church to a straight and narrow conservative path. Hunkering down in the Holy See, he'll wait for the truly faithful to buy in. Proselytizing is for the weak and compromise for the weaker.
"I don't appear. I don't explain," he proclaims in Episode 3, one of five made available for review. "This Pope won't be wasting time roaming around the world."
All of this unfolds in mystical, at times comical ways, with various Cardinals now scheming to overthrow what they've wrought. But Pope Pius XIII, abandoned by his parents as a seven-year-old and dropped off at an orphanage run by the nurturing Sister Mary (Allison Case in flashbacks, Diane Keaton in the present), seems wholly above their pedestrian machinations. Instead they're his putty while he forces them to wait a seeming eternity for his first encyclical. The men in red end up getting far more than they bargained for in a rousing Episode 5 that also poignantly spotlights the longtime platonic friendship between the Pope and fellow orphan Andrew (Scott Shepherd), now a Cardinal. Their wayward night on the town is primarily one of reflection, in part sparked by a lady of the night who sees through them, even though they're in track suits.
As
The Young Pope
's central figure, Law lays down his laws in the manner of a Frank Underwood on a G-rated religious bender. In fact, it's easy to see Kevin Spacey in this role, were he 10 or so years younger. Pius XIII (born Lenny Balardo) smokes as a way of exhaling, demands breakfasts of Cherry Coke Zero and no more, doesn't do "friendly" while on the job, spurns all efforts to merchandise the new papacy and refuses to be seen by the masses. He instead addresses them in silhouette at night. His Catholic flock heretofore must be "exclusively" devoted to God and no other. Free will, liberty and emancipation are gone and to be forgotten.
Law plays this difficult role with a precise
panache
. He does unto others what they do unto him, with a particular distaste and disdain reserved for Cardinal Angelo Voiello (Silvio Orlando), who had expected to mold the new Pope to his liking. Orlando plays this role perfectly, and with a mole on his cheek so prominent that it could be a supporting character.
Redoubtable James Cromwell plays another pivotal Cardinal, former Archbishop of New York Michael Spencer. The new Pope's longtime mentor had expected to become Pope himself. Now he's seething with contempt, rebuking the pontiff as "a vindictive little boy" who doesn't know how to love and is compensating for his parents' abandonment of him by retreating within himself.
There's also Esther (Ludivine Sagnier), barren wife of a likewise sterile pontifical swiss guard. Can the Pope help her to conceive through the pure power of his being. Or might Cardinal Voiello be successful in blackmailing her into seducing him and therefore destroying his papacy?
Keaton's Sister Mary primarily steels the new Pope for the job ahead. So far she's willful only in proclaiming him an instant saint whose previous sorrows must now be put to rest. "One billion people will depend upon what you say and do," she tells the boy who became a young man under her guidance. But hey, no pressure.
The Young Pope
is replete with imagery, including what, in future episodes, may be HBO's best ever opening credit sequence. The music can be hypnotic at times, purely pop at others. I'm still not sure whether it was too much to set up Pius XIII's ringing address to the Cardinals with lyrics that include "Girl, look at that body" and "I'm sexy and I know it." OK, I've made up my mind. Indeed it was too much.
Intellectually challenging while arguably also going off the rails more than a few times,
The Young Pope
has its work cut out in luring a sizable audience. There's no violence, next to no sex and power struggles that so far are purely without physicality.
"A Cardinal works in a collegial manner while a Pope is an absolute sovereign," Pius XIII says before asking what he sees as a rhetorical question: "What truly made our church great? Fear or tolerance?"
This former Catholic altar boy grew up under priests and nuns who preached both the former and the latter. In
The Young Pope
, a papal mafia seems to be at hand by the end of Episode 5. Don't stop believing -- or else.
GRADE:
B+
Email comments or questions to:
unclebarky@verizon.net