Lohan remains vertical, stays the course in ABC Family's Labor Pains
07/17/09 12:19 PM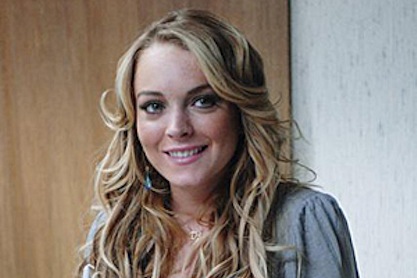 Lindsay Lohan hangs in there for Labor Pains. ABC photo
By ED BARK
Multi-troubled Lindsay Lohan certainly doesn't walk through
Labor Pains
.
Nor does she stagger through it.
The much-chronicled, seemingly self-destructive 23-year-old is in virtually every scene of an ABC Family channel confection that's entertaining and amusing enough to spend a little time on. Premiering on
Sunday, July 19th at 7 p.m. (central)
,
Labor Pains
is likely to draw a sizable crowd for voyeuristic reasons alone if nothing else.
Lohan plays Thea Clayhill, a penny-poor publishing company assistant bedeviled by an officious boss and a rebellious kid sister named Emma (Bridgit Mendler). Faced with firing, she fakes being pregnant to save her job. The subterfuge of course escalates before Thea's balloon eventually bursts -- figuratively and literally.
Some of the scenes can't help but call attention to Lohan's post-
Freaky Friday
personal strife
.
First there's the one where a co-worker played by Jay Thomas (himself a badly faded former comedy star) twits Thea's "slippery slide into obesity."
"Ah well, you had a nice run there, didn't you, champ?" he jabs. It takes one to know one.
Later in the movie, a friendlier co-worker named Lisa (Cheryl Hines from
Curb Your Enthusiasm
) implores Thea to give up the masquerade.
"You have
got
to come clean," she tells her, the words fraught with double-meaning.
But Lohan might possibly be righting herself through the good graces of the Disney-owned ABC and ABC Family networks. She came to prominence in Disney feature films, after all. Her latter day re-entries, following two DUI arrests and some rehab stints, have been the recurring part of Kimmie Keegan on ABC's
Ugly Betty
and now the starring role in
Labor Pains
.
Lohan looks a little blotchy and heavily made up in some scenes. Still, she perseveres, gradually breathing some life and likeability into both the film and her character. Ironically, her kid sister, whom she's more or less raising after their parents died, initially is a bratty ingrate who might remind Lohan herself of Lohan.
"So is your sister a badass like you?" Thea is asked by a cute guy named Nick (Luke Kirby), who of course is destined to become more than her stand-in boss.
"No, she's more of a smart-ass," Thea replies.
Labor Pains
also is populated by former
American Idol
dweeb Kevin Covais as a nerdy assistant and ex-
Girlfriends
star Tracee Ellis Ross (Diana's daughter) as another of Thea's co-workers. Chris Parnell, formerly of
Saturday Night Live
, is strictly one-note as their very off-putting boss. And Janeane Garofalo drops in for a few minutes as an influential talk show host.
The movie proceeds pretty much exactly as expected. But this
is
Lindsay Lohan after all, so predictability gives way to more than a little voyeurism. Does she look hung over in any of her scenes? Is there any charisma left? Can she throw down a "vodka straight up" at a restaurant without reminding viewers of her real-life descents?
The answers are: hard-to-tell, some and no. Which at least makes
Labor Pains
one to grow on if Lohan indeed is destined to right herself and someday conquer all those demons.
GRADE:
C+