Bravo's Real Housewives of Dallas is long overdue but pretty much interchangeable with all the others
04/07/16 12:56 PM
Brandi Redmond (right) sporting her "poop hat." Bravo photos
Premiering:
Monday, April 11th at 9 p.m. (central) on Bravo
Starring:
Cary Deuber, Tiffany Hendra, Stephanie Hollman, LeeAnne Locken, Brandi Redmond, Marie Reyes
Produced by:
Rich Bye, Andrew Hoegl, Andy Cohen
By ED BARK
@unclebarkycom on Twitter
Overriding question: What took y'all so long?
Dallas bows to no city when it comes to wretched excess. Or as Bravo publicity materials put it, "the extravagant, over-the-top city of Dallas."
But since the 2006 premiere of
Real Housewives of Orange County
, Big D, little a, double l, a-s has been passed over in chronological order by New York City, Atlanta, New Jersey, Washington, D.C., Beverly Hills, Miami and "Potomac." So it took a full decade before the lucrative
Real Housewives
franchise finally came to its senses and zeroed in on the land of the Ewings. It all comes to pass on Monday, April 11th, when the first of 10 Season One episodes (subtitled "Everything's Bigger in Dallas") introduces the nation at large to five central characters and a tacked-on "friend."
Bravo made the first two hours available for review. And they don't disappoint if you're into the series' trademark blends of hard-partying, drinking at all hours, over-giggling, giddy shopping, gaudy charity galas, marital unrest and choreographed cattiness. Have I missed anything?
The proper mood is set up-top, when two housewives team up off-camera to inform viewers, "Sometimes to move up the ladder, you gotta get down in the dirt. That's how we do it in Dallas."
Then come the official introductions. Registered nurse Cary Deuber, who lately assists her latest husband, Mark, in his lucrative plastic surgeon practice, proclaims, "I'm not a trophy wife. I'm a lifetime achievement award."
Stephanie Hollman, who lives on the Four Seasons golf course with her oft-absent businessman husband Travis, informs viewers, "I'm the girl next door -- if you live in a big ol' mansion."
In the first episode, Stephanie spends ample time pounding down "Jesus juice" (white wine) in daytime hours while over-cackling with her best friend, Brandi Redmond, a former Dallas Cowboys cheerleader whose husband, Bryan, is determined to be a millionaire by the age of 40. In what may be the signature quote of the series, Brandi tells the camera, "We'll have a little bit too much to drink and we'll pee in bushes and she (Stephanie) will fart on command and I will dance in her fart." Mamas, don't let your babies grow up to be Bravo housewives.
LeeAnne Locken, a self-described "carny girl," has never been married but yearns to tie the knot with police officer Rich, with whom she's been living for six years. She's otherwise deeply devoted -- some might say addicted -- to charity functions. As a longstanding volunteer, it allows her to mingle with the city's rich movers and shakers. "I get to live a life that most people dream of," says LeeAnne.
LeeAnne's best pal is Tiffany Hendra, a former Los Angeles model and TV host who's returned to her home state with husband Aaron, an Australian with ambitions to be a big-time recording artist. Although it's tough to pick any real winners here, Tiffany may be the most sympathetic of the lot. But that of course could change very quickly, depending on what the scriptwriters, er, people following their real-life adventures -- might have in mind. At the other end of the teeter totter, the wicked witch is Brandi, who does a mean-spirited impression of LeeAnne while giving vacuous a bad name.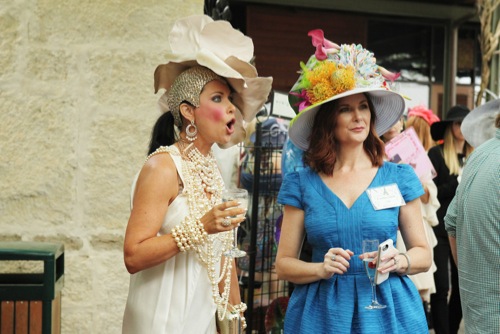 LeeAnne Locken (left) is quite good at looking aghast.
Episode 2, subtitled "Mad As A Hatter," finds the housewives and their friend, Maria Reyes, prepping for the annual "Mad Hatters" fundraiser at the Arboretum. All the women are supposed to wear wacky headgear at what LeeAnne calls "
THE
event of the season."
LeeAnne, a dedicated follower of decorum, says there are rules at such events. And "crossing the wrong people in society gets you crossed off the list."
Brandi doesn't seem to care all that much. She's constructed a "Poop Hat" with the gleeful assistance of Stephanie. It includes fake animal turds and pellets with a centerpiece plastic dog dubbed "Perky Poop A Lot."
This girl's thing for poop is somethin' else. Earlier in the same episode, her two little daughters help to make a chocolate cake for their grandma's birthday.
"It looks like poop pie," says Brandi.
"That's not funny, mommy," the oldest one tells her to no avail. Because mommy "thought it was friggin' hilarious."
At the climactic Mad Hatter Tea & Luncheon, vigilant North Texans might recognize two of the men in attendance. KLUV-FM radio personality Jody Dean, who had some speaking lines as one of the beaus in Bravo's since canceled
Most Eligible Dallas
, can be briefly glimpsed standing around. Ron Corning, co-anchor of TEGNA8's
Daybreak
newscast, is also without any speaking lines but is fleetingly seen from a couple of angles while eating lunch. It's not known whether either knew that Brandi had
faux
doo doo in her bodacious bonnet. But LeeAnne certainly noticed. "Why would you wear sh#* on your head?" she asks the camera before noting that Brandi might as well have walked up to each attendee and said, "Bitch slap, I'm here."
Brandi and Stephanie later conspire to put one of the bigger fake turds on LeeAnne's lunch chair. It doesn't appear that she sat on it, but Stephanie is thoroughly unrepentant. "She (Brandi) brought humor to something that could be boring," Stephanie reasons. " So they can all go f*$k themselves." Pause, one-two. "I shouldn't have said that" -- with a snort for punctuation.
LeeAnne has vowed to attack when attacked, though. So let's not worry unduly about her because the claws are gonna come out and Brandi's also gonna get scratched in due time.
The saving graces of all this are supposed to be the charities benefiting from the money given by the some of the housewives' menfolk while the housewives themselves put on a show. "I can fart on command," Stephanie boasts. Still, she's not completely fulfilled as a mother of two sons with a husband who always seems to be away on business and leaves her with chores to do. These are usually more or less accomplished with Brandi and wine in the mix, whether it's haplessly trying to install a garage door opener or successfully destroying a little wasp's nest.
"I feel like Travis's dream woman would be Betty Draper (of
Mad Men
)," laments Stephanie, who's ready for "The Rapture" to take her away from it all. "I'm so OK with that." Easy now.
So what does this say about Dallas and these women? Nothing, really. Any city on the receiving end of the
Housewives
franchise can expect to be painted with a very broad, soap operatic brush. It's all in the editing, and Brandi, Stephanie, LeeAnne, Tiffany and Cary may not be entirely pleased with the way they're portrayed in these opening episodes. They're getting paid, though. And the price of admission often requires playing the fool. In that context,
Real Housewives of Dallas
delivers the goods, the gossip and the usual windfall of ridiculously over-sized moments.
"Everyone knows Lee Anne Locken. She's like the mayor of Dallas," Tiffany claims in Monday night's early minutes.
"They call me the Mouth of the South, and I'm OK with that," LeeAnne adds.
That's over-stated in both cases. But all of this is critic-proof, and everyone is free to watch what they choose.
Meanwhile, let me clean the brain pan drippings off my keyboard. And then I'm gonna go pee in the bushes.
GRADE:
C-minus
Email comments or questions to:
unclebarky@verizon.net