The Voice and The X Factor ready to go for each other's throats
09/07/12 09:22 AM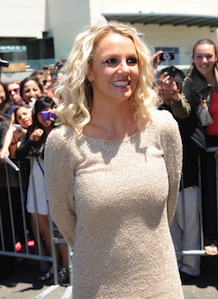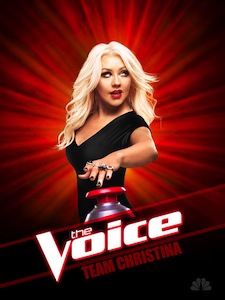 Here come the busty judges: Britney Spears and Christina Aguilera.
Fox/NBC photos
By ED BARK
@unclebarkycom
Quickly now, name the first winner of
The X Factor
and the second winner of
The Voice
.
You can't, can you? Join 99.9 percent of your fellow Americans.
Still, people
do
watch these shows.
Other than
Sunday Night Football
, NBC's Season 2 of
The Voice
ranked as its most popular series last season with an average of 15.8 million viewers for the performance shows and 10.9 million for the weekly results.
And despite performing below lead dog Simon Cowell's pronounced expectations, Fox's
The X Factor
also was its network's second most popular series (behind only
American Idol
) with 12.7 million and 12.6 million viewers for the performance and results shows.
Both shows return next week, with NBC spiking the cocktail by announcing on Wednesday that it's "fashioned
The Voice
into a three-night event."
The added Wednesday night edition will put
The Voice
directly opposite the Season 2 premiere of
X Factor
, with both shows starting at 7 p.m. (central).
It's not quite like some of those olden TV shootouts. In 1986, for instance, NBC moved
Miami Vice
opposite
Dallas
in hopes of killing off the Ewings. And in 1990, Fox sent
The Simpsons
to a new night and time to battle
The Cosby Show
.
Still,
The Voice
vs.
X Factor
has quite a bit riding on the outcome. And Cowell fired back during a Thursday teleconference with TV writers that was marred by extreme audio difficulties in the early going. Not a particularly good omen for a singing competition.
Cowell says that NBC wants to put a dent into
X Factor
because new judges Britney Spears and Demi Lovato make for a "sensational" new combo in his not even remotely objective view.
"I think it's mean-spirited, and I hope and pray that it backfires on them," Cowell said of NBC's gamesmanship. "And I am pissed off about it, because it's sort of a gentleman's agreement" (not to do this sort of thing). It's tactical. They want to get the message out. They don't want you to watch this show."
Cowell also is the principal executive producer of NBC's
America's Got Talent
, which is winding down its latest summer run and remains the hot weather season's biggest hit. But the Peacock obviously didn't factor in this particular business relationship. Blood never runs thicker than prime-time ratings wars.
X Factor
is still looking for its two new hosts, who won't be a part of the show until live episodes begin several weeks from now. The latest rumor is that Khloe Kardashian is a prohibitive favorite to be one of the judges, but hubby Lamar Odom need not apply.
"My gut feeling is we'll probably go with a boy and a girl who haven't had any hosting experience," Cowell said.
This season's
X Factor
will have far more behind-the-scenes footage of contestants scrapping and clawing, Cowell contends.
"I suppose the headlines are that we've allowed the audience to see way much more of the audition process than they have before . . . There's an awful lot of bitchiness behind the scenes that you often don't see. And it has to be different from the other (talent competition) shows because otherwise we're all going to blur into one, and it'll be boring."
Cowell says that Spear has been a revelation to him, judging harshly with no fear of being booed by the arena-sized audiences for the preliminary auitions in cities ranging from Providence, R.I. to Austin, TX. One of the show's on-air promos features Spears telling a contestant, "You can't destroy that song, sweetie."
"She can't say no quickly enough on this show," Cowell says. "She's very difficult to please . . . If you buy a dog and you expect it to lick you and it instead bites you, it was rather like that. She was kind of fearless."
But the Dallas-bred Lovato comes off as the firecracker on an 11-minute
X Factor
"presentation reel" mailed to TV writers.
"You need to take a breath mint if you're going to get that close to my face," she tells Cowell at one point. She also labels him "old and impatient" while Spears mostly flashes her major league cleavage in a red dress with plunging neckline.
Voice
judge Christina Aguilera has nothing on her in this department. And that's no doubt the way viewers are supposed to see it, too.
Cowell remains acidic when the spirit moves him, telling a black male contestant in drag, "If you imagine Madonna, Bobby Brown and Dracula had a child, it would be you."
He also informs an older contestant, "You sang and performed like a dog trying to lay an egg."
The reel includes full performances from a well-received three-member teen boy group and a 13-year-old girl who impressively belts out Nina Simone's "Feelin' Good." She gets the full Simon: "A star has just walked out on that stage," he proclaims.
He'd better hope so. Because what
The Voice, The X Factor
and
American Idol
all need in the end is a winner who actually sells some tunes rather than fading rapidly into obscurity.
In that respect, Jermaine Paul won Season 2 of
The Voice
and Melanie Amaro was the first
X Factor
champ.
Sorry to keep you in suspense. But now you know.