Crackle takes a tangled look at high-priced auctioneering in The Art of More
11/20/15 11:06 AM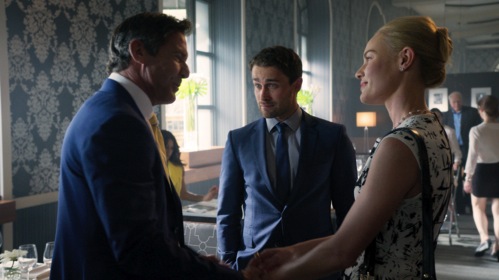 Connivers played by Dennis Quaid, Christian Cooke, Kate Bosworth forge various unholy alliances in The Art of More. Crackle photo
Premiering:
Currently streaming all 10 Season One episodes on Crackle
Starring:
Christian Cooke, Kate Bosworth, Dennis Quaid, Cary Elwes, Savannah Basley, Patrick Sabongui
Produced by:
Dennis Quaid, Gary Fleder, Chuck Rose, Laurence Mark, Tamara Chestna
By ED BARK
@unclebarkycom on Twitter
For those who remain unaware of it, Crackle is neither a Rice Krispies wanna be nor the new sidekick of the longstanding Hershey brand candy bar.
Matter of fact, free, advertiser-supported Crackle has been around since 2007, when Sony Pictures Entertainment launched it as a re-brand of Grouper. Still, it's been pretty slow-going on the consumer awareness front. Crackle became available on Roku and other streaming devices in 2011 and made its first sizable imprint in the summer of 2012 with Jerry Seinfeld's critically praised
Comedians in Cars Getting Coffee
.
But in the years since, pay-per-month Netflix, Amazon and Hulu have continued to set the pace in the growingly competitive world of Internet streaming media. Crackle has responded feebly with originals such as
Sports Jeopardy!
and (urp)
Joe Dirt 2: Beautiful Loser
. Its latest effort is far more ambitious and also the first time Crackle has mounted an original drama series.
The Art of More
, which on Thursday began streaming all 10 Season One episodes, is high on production values but low on basic believability with its discombobulated tale of two very amoral New York art auction houses. Put your Monet where your mouth is, and let's hope it's not stolen or forged.
Dennis Quaid, the series' principal executive producer, also co-stars as swaggering, hard-partying real estate mogul Sam Brukner, whose up-for-bidding art collection is the envy of rival auctioneers Parke-Mason and DeGraaf. Brukner also has political ambitions and dismisses anyone who questions his lifestyle. After all, the people want a can-do authentic guy as New York governor, not a phony politician. Sound familiar? But the boozing Brukner has much better hair than teetotaling Donald Trump. In Episode 10, however, he does bellow "You're fired."
Vying for Brukner's business are two young gun auction house connivers without any compunctions about how they make it happen. Even so, icy Roxanna Whitman (Kate Bosworth) of DeGraaf is a walk in the park compared to Parke-Mason's cocksure Graham Connor (Christian Cooke), whose real name is Tommy. During the Iraq war, he got involved in art theft and smuggling. Back in the States, Parke-Mason welcomes him with open arms after he lands filthy rich Arthur Davenport (Cary Elwes) and his imposing art collection.
Unfortunately for Connor, his old Iraqi partner in crime, Hassan Al Afshar (Patrick Sabongui), has made his way to NYC and wants to do one last illicit deal in order to raise enough money to free his family from the home country. This leads to the killing of a security guard and Connor's complicity. His problems quickly escalate, with FBI investigators and Russian mobsters also making Connor's life a living hell. But it's hard to empathize with a guy who otherwise would be screwing people anyway. Connor's halfway noble pursuit of Elizabeth Mason (Savannah Basley), daughter of Parke-Mason's co-founder, perhaps generates a smidgen of rooting interest in a central character who lamely wails at one point, "I'm not a master criminal, OK? I'm just a guy who's lookin' over his shoulder all the time."
Meanwhile, Roxanna's gambits include conning a dying old man into auctioning off his supposedly priceless and long-mothballed art collection. But big problems kick in when the centerpiece of this cache, a Vincent Van Gogh painting, is nowhere to be found.
Amid all the gangsterland goings-on and art house double-dealings,
Art of More
is on firmer ground with an interesting story device that opens most episodes. Via brief flashbacks, some of the high-line items and collections up for auction are shown in their original states. In Episode 2, a substitute keyboardist for The Who stumbles upon Pete Townsend's written lyrics for "Won't Get Fooled Again" during the band's 1969 concert in Lake Geneva, Wisconsin. Episode 5 begins in Antarctica, circa 1912, when an expedition party led by Robert Falcon Scott eventually was claimed by the elements. His journal and attendant belongings now command heavy prices.
Quaid involves himself fairly heavily in the overall proceedings, playing against type as the "impossibly egotistical" Brukner. He clearly savors this role, sometimes sounds like Jack Nicholson and is fun to watch in small doses. Elwes, on the other hand, is for the most part ridiculous as the snooty Davenport. But he'll always have
The Princess Bride
and
Robin Hood: Men In Tights
.
Season One of
Art of More
ends very open-ended, with Connor sinking into even deeper depths of misery and criminality while Brukner makes a drunken spectacle of himself during what's meant to be a triumphant party he's thrown on his behalf. Roxanna, whose boss is her demanding and belittling father, affixes another icy stare in her closing scene.
Crackle is unlikely to set the binge-watching meter whirring with this one. Plus, it takes longer, with all those commercial breaks to navigate. Still,
The Art of More
seems like progress in an increasingly rough, tough streaming world. It's at the point where we've come to expect appreciably more from this world than from the Big Four broadcast networks. So these can be tough nuts to crack for Crackle. Or in this particular case, tough Gogh-ing.
GRADE:
C
Email comments or questions to:
unclebarky@verizon.net