NBC hopes for a hit from the blind side with Growing Up Fisher
02/20/14 02:23 PM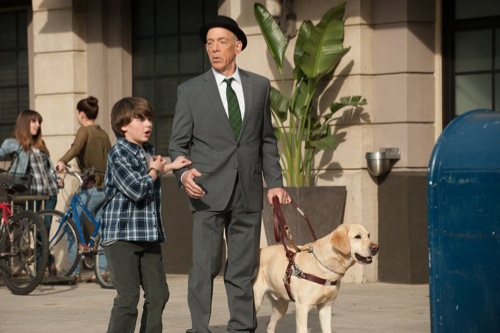 A boy, a dog and his blind dad in Growing Up Fisher. NBC photo
Premiering:
Sunday, Feb. 23rd at approximately 9:38 p.m. (central) on NBC before moving to Tuesdays at 8:30 p.m. on Feb. 25th
Starring:
J.K. Simmons, Jenna Elfman, Eli Baker, Ava Deluca-Verley, Lance Lim and Jason Bateman (in voiceovers)
Produced by:
DJ Nash, Jason Bateman, Jim Garavente, Tucker Cawley
By ED BARK
@unclebarkycom on Twitter
Can the actor best known lately for pitching Farmers Insurance in omnipresent TV ads also sell viewers on the notion that he's a blind man who's been successfully pulling the wool over his law firm clients' eyes for the past 20 years?
Sounds far-fetched. Except that NBC's new
Growing Up Fisher
(previously called
The Family Guide
) is based on creator DJ Nash's real-life childhood as the son of a completely sightless father who pulled off the above. Or so he says.
Previewing Sunday after the Winter Olympics closing ceremonies before going to Tuesdays at 8:30 p.m. (central),
Growing Up Fisher
also asks viewers to accept an oddly idyllic divorce -- no reason is really given -- between Mel Fisher (J.K. Simmons) and his wife, Joyce (Jenna Elfman supplanting the originally cast Parker Posey). This more or less forces Mel to stop pretending he's
not
blind after he moves out of the house.
His devoted son, Henry (Eli Baker), had been Dad's eyes and ears when his law partner and brother Glenn ( Bill Fagerbakke) wasn't helping him to fake it at the workplace. But now Henry feels left out after Mel gets a guide dog named Elvis.
It's all told via flashback, with the unseen Jason Bateman doing voiceovers as an adult Henry. NBC suddenly is big on 11-year-old boys on Tuesday nights, with the preceding new
About A Boy
also prominently featuring one.
Growing Up Fisher
is no
About a Boy
, although at times it's not half-bad. The relationship between the freewheeling Mel and wide-eyed Henry has its sweet spots. Never more so than when dad assures his only son at the end of Episode 1: "This is not my apartment. This is
our
apartment.
Elfman's Joyce, however, is an all too typical blend of aging TV mom striving to be young, cool and alluring again. Her clashes with sour teen daughter Katie (Ava Deluca-Verley) tend to get old in a hurry. But Elfman is in fine form when trying on a form-fitting pair of pants while Joyce grimaces. "This is
not
the tush of a mom. Pow," she says while admiring herself in a mirror.
Episode 2 begins with Bateman telling viewers, "When Mel Fisher came out, he came out hard." He's referring to his dad no longer pretending to be sighted. But the line sounds more than a little creepy and at best is ill-fitting.
It'll otherwise be interesting to see if Farmers Insurance buys any spots during
Growing Up Fisher
. That might ruin the illusion of Simmons playing a blind guy, which he does pretty well. On the other hand, those commercials might end up providing a more gainful annuity for Simmons than his new sitcom. Pow.
GRADE:
C+
Email comments or questions to:
unclebarky@verizon.net