FALL TV PREVIEW: New series -- Dirty Sexy Money (ABC)
09/26/07 12:38 PM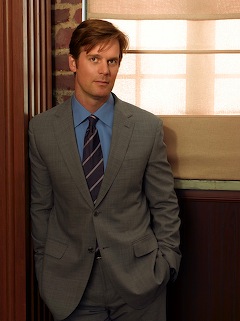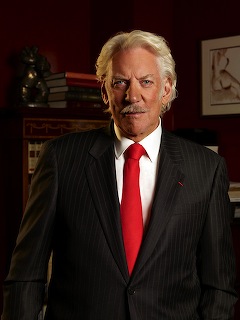 Peter Krause is sucked in by Donald Sutherland on Dirty Sexy Money.
Premiering:
Wednesday, Sept. 26 at 9 p.m. (central) on ABC
Starring:
Peter Krause, Donald Sutherland, Jill Clayburgh, Natalie Zea, William Baldwin, Glenn Fitzgerald, Seth Gabel, Samaire Armstrong, Zoe McLellan
Created by:
Craig Wright
By ED BARK
The title's a highly promotable beauty, not coincidentally popping off the page like another little ABC series called
Desperate Housewives
.
The show's a grandstanding show-off, too, and that's meant as a compliment.
Dirty Sexy Money
puts its money on the screen in Wednesday's premiere episode. Wisteria Lane is pretty and all, but has no real scope.
DSM
looks cinematic, feels big and even has latter day suer Dan Rather cameo-ing as himself and asking one of the rich, spoiled, Manhattan-based Darlings whether he'll make a run for the U.S. Senate.
Principal star Peter Krause (
Six Feet Under
) is returning to ABC after a previous turn in the well-regarded but low-rated
Sports Night
. This time his chances look much better as Nick George, whose mostly absentee father, Dutch, handled the Darlings' many and varied predicaments until dying in a plane crash.
Nick, a low-paid, do-gooder lawyer for the disadvantaged, has vowed to wash his hands of dad's business. But patriarch Tripp Darling (terrifically played by Donald Sutherland) wants a familiar face that he can trust implicitly. This dawns on Tripp after he considers Johnnie Cochran -- only to learn he's dead -- and takes a shot at obtaining Bill Clinton's services. Or so he tells Nick, whom he seduces with an offer of $5 million to be spent as he pleases on charity work.
Double it, says Nick. Done, says Tripp, who also will be paying Nick a very handsome salary.
Not that he doesn't earn it. The five younger Tripps are all high maintenance messes.
Oldest son Patrick (William Baldwin), New York's attorney general, can't bring himself to break off an affair with a transvestite. He wants Nick to do it for him.
Middle son Brian (Glenn Fitzgerald) is an Episcopal priest with a son out of wedlock. He also views Nick as "just like his dad. He's a glorified parasite."
Weepy oldest daughter Karen (Natalie Zea) is thrice-divorced and about to make another bad marital decision. But she still has a longstanding crush on Nick, who's got a wife and daughter.
Twins Jeremy and Juliet (Seth Gabel, Samaire Armstrong) respectively are a drunk and a ditzy "celebutante." There's also weary Darling matriarch Letitia (Jill Clayburgh), who enjoys everything that billions can buy.
Krause has mastered the exasperated look, and he gets to flex it a lot in
DSM
's one-hour premiere. If anything, though, the show plays too much like a comedy, even though Nick comes to believe that his father was murdered. More gravitas will be needed to carry that overriding storyline from episode to episode.
For now, the Darlings, save for Tripp and Letitia, are mostly portrayed as goofballs. A good deal of fun can be had at their expense. But at some point that could get older than old money.
Grade:
A-minus