TV Land's The Cougar stars 40-year-old temptress and 20 Jungle Jimmies
04/15/09 08:23 AM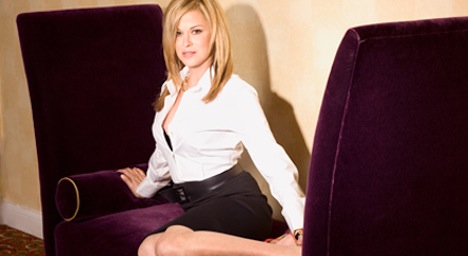 "Cougar" Stacey Anderson meets her wolf pups on TV Land.
Premiering:
Wednesday, April 15th at 9 p.m. (central) on TV Land
Starring:
Stacey Anderson and 20 younger male horndogs
Created and produced by:
Mike Fleiss
By ED BARK
Transport 20 strapping bucks to the usual posh Southern Cal locale and let the liquor flow before a 40-year-old temptress summarizes what she sees.
"There are a lot of hot, hung, incredible guys surrounding me," says 40-year-old, twice-divorced, mother of four Stacey Anderson. And she lah lah lah lah lah lah likes it.
TV Land, which used to be the prime time preserve of evergreen sitcom reruns, takes another tumble into the reality genre Wednesday night (
9 p.m. central
) with the premiere of
The Cougar
.
It otherwise looks very much like
The Bachelor
, and was created by one of that show's maestros, the ubiquitous
Mike Fleiss
. But its heroine dispenses with roses and instead eliminates suitors via the climactic "Kiss-off." She bestows a brief lips-to-lips stamp of approval on the worthy. Castoffs get her cheek instead. In Wednesday's opener, five of the 20 are sent pecking.
The show's host is Vivica A. Fox, who gets stuck with saying, "Gentlemen, feast your eyes on Stacey -- The Cougar." I guess it's a paycheck, but at what price? Poor Vivica's not that far removed from her nine-episode guest arc as saucy Loretta Black on
Curb Your Enthusiasm
. And now it's come to this.
Stacey, who regularly says "amazing," has a daughter, 23, who's older than two of her male playthings and the same age as five others.
One of the 23-year-olds, "pool boy" Bodie from Austin, TX, describes himself as a lamb who is "nice and sweet and tender." But will The Cougar eat him alive? Sorry.
NBC's 2007 reality dollop,
Age of Love
, had a mildly similar premise. In that one, a mix of 13 cougars and kittens vied for the affections of Aussie tennis player Mark Philippoussis, whose surname presented a helluva challenge after a few drinks.
Players are seldom without a drink in hand on
The Cougar
. One of them, a 29-year-old ex-Marine named Ryan, turns out to be a surly drunk whose bleeped profanities are aimed at a rival. This is reality gold, so he's likely to be kept around for a while.
The show purports to "change everything you know about relationships, love and getting older." It does nothing of the sort, but does reinforce the time-honored tradition of young men whooping and yelping at the sight of a "hot" woman, which Stacey certainly thinks she is.
"You're an absolute fox," one supplicant tells her. An Illinois cop ups the ante, telling Stacey she's under arrest and "you have the right to remain delicious."
After the drinks settle in, fun-loving Johnny strips down to his undies and cannonballs into the pool in hopes of making a good impression. And so on.
The Cougar
could be called mindless entertainment, although that's perhaps too much of an upgrade. Stacey, a seemingly prosperous commercial realtor from Arizona, of course is determined to find true love amid all of this ephemeral splendor and testosterone. Her kids also say they're pulling for mom, who in an episode-ending preview of coming attractions is shown sharing a bubble bath with one suitor and a bed with another.
"I feel like Eve in a garden of forbidden fruit," she says. Peachy.
GRADE:
C-minus