American Horror Story regenerates brilliantly with Freak Show
10/07/14 01:52 PM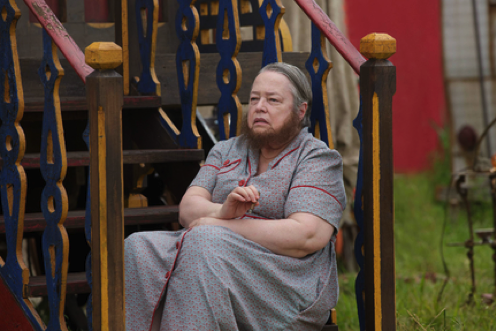 Kathy Bates again shows she'll do anything for the part. FX photo
Premiering:
Wednesday, Oct. 8th at 9 p.m. (central) on FX
Starring:
Jessica Lange, Kathy Bates, Sarah Paulson, Michael Chiklis, Evan Peters, Frances Conroy, Angela Bassett, Emma Roberts, Finn Wittrock, Denis O'Hare, Patti LaBelle, Wes Bentley
Produced by:
Ryan Murphy, Brad Falchuk, Tim Minear, Bradley Buecker, Jennifer Salt, Jessica Sharzer, Dante Di Loreto, James Wong
By ED BARK
@unclebarkycom on Twitter
Not at all coincidentally it seems, FX's two most-watched series also happen to be its most twisted and gruesome.
Sons of Anarchy
is in the early stages of an announced final season.
American Horror Story
's fourth installment, subtitled
Freak Show
, premieres on Wednesday, Oct. 8th.
The American viewing public apparently knows what it wants from its cable dramas, given the runaway ratings successes of two other mayhem-driven serials, AMC's
The Walking Dead
and HBO's
Game of Thrones
. In the case of
Freak Show
, expect to reap a wealth of depravity and disfigurement during what very much looks to be the best reincarnation yet of a bold, disturbing franchise.
Again led by Jessica Lange (a two-time Emmy winner for previous
AHS
roles), this is an absolute wonderment of composition, cinematography, costuming, special effects and shivers. Principal producers Ryan Murphy and Brad Falchuk have built the firmest foundation yet for their latest collection of fright nights. See the brawny, sour-tempered bearded lady. Marvel at the three-breasted woman, the beauteous conjoined twins and the "Lobster Boy" whose fused fingers are a safe sex baton of orgasmic delight. A super-creepy demonic clown also is on the loose, stabbing his way through Jupiter, FL, circa 1952. What's not to like?
Lange this time out is Elsa Mars, a cut-rate Marlene Dietrich who yearns to be a star while recruiting new freaks for a show that's lately fallen on hard times. Her first lieutenant, bearded Ethel Darling (Kathy Bates), laments that "thanks to Red Skelton and Lucille Ball, people are getting their jollies at home now."
But Elsa is sure she knows what's still ailing all those ripe-for-the-picking bumpkins out there. And Lange again excels in bringing her latest duplicitous
AHS
character into full bloom. Near the end of Wednesday's extended 90-minute episode, she grandly sings up a storm as her freak show's
grande dame
emcee. It's a tune that wouldn't be out of place at all on The Beatles'
Magical Mystery Tour
album. Never mind that it's not really a fit for what was going down in 1952. Who really cares when the performance jumps off the screen.
Lange also is always good for one of those deliciously hissing riffs that virtually make her a lock for another Emmy. They're desperate for excitement in "all these little towns," she says with complete certitude. "Housewives pinched with bitterness, stupefied with boredom as they doze off in front of their laundry detergent commercials and
dr-e-e-e-eam
of strange, erotic pleasures."
Fellow
AHS
rep player Sarah Paulson this time has the difficult dual role of Bette and Dot Tattler, who share some of the same organs but not dispositions. The illusion is complete here, with one twin a naysayer and the other yearning to live a little. "Has anyone tasted your cherry pie?" Elsa inquires of both. That'd be a yes and a look of utter disgust.
Evan Peters also returns to
AHS
as Ethel's son, Jimmy "Lobster Boy" Darling. He despises being called a freak and also has grown weary of pleasing the ladies instead of himself. Another
AHS
alum, Angela Bassett, is back as the three-breasted Desiree Dupree, who's not shy about displaying her trifecta. She's married to strongman Dell Toledo (Michael Chiklis), who's also Ethel's ex-. Chiklis, seen first in Episode 2, is taking his maiden
AHS
voyage. But he put FX on the map as combustible detective Vic Mackey on
The Shield
.
Freak Show
is not for the easily repulsed. Nor were the three previous
AHS
tales. But its setting and storytelling possibilities are off the charts. And the musical performances, whether by Lange or the two Paulsons in Episode 2, are an added bonus from the producers who orchestrated
Glee
.
I was a marginal fan of the first
American Horror Story
before being put off by both
Asylum
and
Coven
. But
Freak Show
looks like a beauty, with a wealth of fascinating characters and a little smattering of heart helping to balance out the grisly appointed rounds of a so far unidentified clown with a hellish half-mask.
Keep those songs coming, too. They fit right in as part of the damnedest show on earth.
GRADE:
A
Email comments or questions to:
unclebarky@verizon.net