Violence vs. sex: on TV it's still no contest when it comes to showing and telling
09/01/15 12:26 PM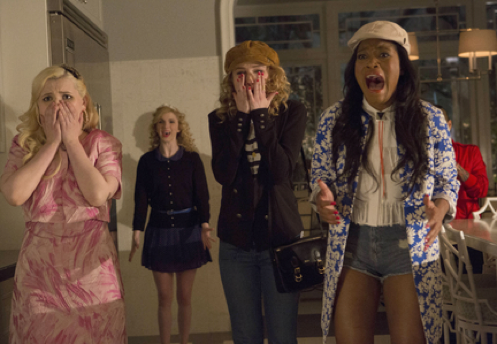 The horror, the horror: Violence, not sex, is the main selling point of Scream Queens, a sorority-set drama premiering this fall. Fox photo
By ED BARK
@unclebarkycom on Twitter
The premiere episode of FX's upcoming
The Bastard Executioner
includes a graphic medieval battle scene in which a blade first enters the back of a skull and then protrudes through the victim's mouth. Those were the days.
Fox's
Scream Queens
, also due this fall, submerges a maid's face in a deep fryer. This does not end well for her. Earlier in the series' opening hour, a preening sorority queen orders one of her minions to "turn me into Jada Pinkett Smith." She's instead "spray-tanned" with hydrochloric acid, which isn't particularly good for the skin. The episode ends with several would-be sorority members buried up to their necks. One of them is then beheaded by a lawnmower. At the controls is someone dressed as a devil. Cue the screams.
Getting away with violence is not much of a problem anymore on broadcast or basic cable networks, both of which are advertiser-supported. But sex continues to be quite another thing. It's OK to show people "doing it." Just keep those sheets strategically placed and don't show too much. No need to offend anyone.
"Well, our society was founded by Puritans, wasn't it?" FX Networks CEO John Landgraf said at this summer's Television Critics Association "press tour" in Beverly Hills. "We sell our content globally. And to tell you the truth, in Europe they think we're crazy. That we'll show horrible violence but won't show a breast. It seems insane to them, but that's the reality of American television. We are much more sensitive to sexual content as a society than we are to violence."
In that respect, a new FX publicity blurb bills
The Bastard Executioner
, due on Sept. 15th, as
Sons of Anarchy
creator Kurt Sutter's "bloodiest drama yet."
Ryan Murphy, creator of the
American Horror Story
franchise and now
Scream Queens
, drew a distinction between the carnage on the two shows.
"
Scream Queens
has a much more satirical, cartoonish quality to the attacks than
American Horror
, which is much more sexualized and darker at times," he said.
But Murphy agrees that censors mostly get snippy when it comes to sex talk and sexual situations.
"I mean, that is the one thing I always find very upsetting," he said. "Violence is cool, for the most part. That's very easy to get through in my job. It's language, it's slang, it's trying to really reflect how people talk. It's trying to write characters who are open about their sexuality, who talk about their sexuality, that gets the most attention and the most push-back."
In some instances, though, Murphy is getting away with more than just murder in
Scream Queens
. Early in the first hour of the Sept. 22nd premiere episode, an underling with blood-soaked hands is asked by a sorority diva, "Did you just get your period all over yourself?" There also are pointed references to "bulimia vomit," menopause and "genital warts."
At the other end of the "adult" content teeter totter, Tina Fey, creator and executive producer of
Unbreakable Kimmy Schmidt
, is opting to back away from the newfound freedom she has on Netflix. The entire 13-episode first season of
Kimmy Schmidt
had already been filmed for NBC before the network passed on it. Netflix came to the rescue, streaming Season 1 without any changes. Fey plans to stay that course in Season 2, keeping the show's broadcast network content restraints pretty much in place rather than risk alienating the show's already built-in audience.
"I think the tone of the show does feel set," Fey said. "We've had so many people say to us, 'Oh, I watch it with my 12-year-old' or 'My 13-year-old and I love the show.' And I would hate to ruin that in Season 2. So I don't think you'll hear profanity or see nudity."
The producers of
The Mindy Project
, picked up by Hulu after three seasons on Fox, are likewise keeping the series pretty much as it's been when a new season begins streaming on Sept. 15th. Even though co-executive producer Ike Barinholtz at first couldn't resist promising "full penetrative sex every episode."
But no, that's not in the playbook.
"Our (audience) demo is like Stephen Colbert's daughter," Barinholtz said. "Like young women who are going to run the country one day. And I think if we really changed the show too much . . . and put it more on a tilt towards stuff you would find on HBO or Showtime, we would maybe turn off some of our core audience. So we've really kind of made a conscious effort to keep it similar in tone."
Longmire
's show runners are chanting the same mantra in their new home on Netflix. A&E canceled the law and order series after three seasons because its audience was deemed to be unacceptably older and thereby a turn-off to many advertisers. When
Longmire
begins streaming Season 4 on Sept. 10th, its loyal viewers aren't likely to be offended by any sharp turns in content.
"Just because there may be more permissiveness on Netflix, there's no more vulgarity or 'graphicness,' " on
Longmire
, co-executive producer Greer Shephard said. "We did not want to alienate the incredible fan base that we actually consider is responsible for our survival."
Ash vs Evil Dead
, launching as a series on Starz after three blood-drenched B-movies, also plans to give its fans what they want. Which in this case is more of the same on an advertiser-free "premium" network with no content restrictions. The 10-episode first season fittingly debuts on Halloween night.
"It was very important we found a network that was willing to go the limit," said director Sam Raimi. "Really let us go anywhere we wanted with the humor, outrageous horror and crazy amounts of gore -- some of the hallmarks of the
Evil Dead
films. Because we had an obligation to the fans."
Star Bruce Campbell is very much on board.
"I just want to be definitive," he volunteered at the close of a press tour panel. "People ask how much blood is there going to be? I went blind the other day shooting a scene. Just picture that. Like, take a shower and open your eyes right into the faucet. That's how much blood there is on the show. So anyone who's looking for it, it's coming your way."
Not that there was ever really a doubt.
Email comments or questions to:
unclebarky@verizon.net