New season: The Forgotten is best left . . .
09/22/09 03:42 PM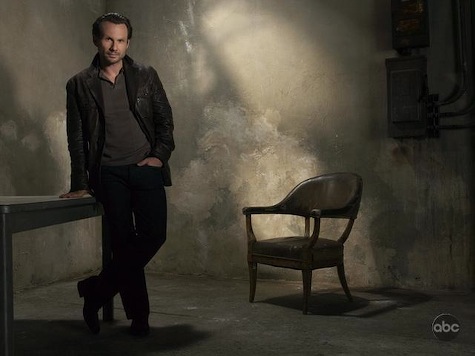 Christian Slater strives to be unforgettable in The Forgotten.
Premiering:
Tuesday, Sept. 22nd at 9 p.m. (central) on ABC
Starring:
Christian Slater, Michelle Borth, Heat her Stephens, Bob Stephenson, Anthony Carrigan, Rochelle Aytes
Produced by:
Jerry Bruckheimer, Jonathan Littman
By ED BARK
ABC at last has its first series from hitmaker Jerry Bruckheimer, architect of the three
CSI
whodunits,
Cold Case, The Amazing Race
and until recently, the undeservedly canceled
Without A Trace
.
All of those were made for CBS, which must have passed on
The Forgotten
. Painfully earnest and pedestrian, it returns an on-the-rebound Christian Slater (from last fall's
My Own Worst Enemy
) to the prime-time rat race as a tightly wound semi-vigilante who heads a team of volunteer gumshoes.
Slater, who affects a breathy delivery as dogged Alex Donovan, is ever-ready with a battery of cliches.
"So what do we do now?" inquires one of the dedicated amateurs of The Forgotten Network.
"We get to work," he barks.
And later: "We are going to cover every angle until we find something."
We begin, as Bruckheimer invariably does, with a corpse. The police have quickly given up on identifying her, which brings Alex and his team into play. For now she's labeled "Highway Jane." And they have just five days to pin a name on her before the case is closed and she's buried anonymously in an unmarked potter's field while her murderer goes free.
Apparently no one on this show has heard of Bruckheimer's
Cold Case
, where years and often decades pass between crimes committed and solved.
On
The Forgotten
, identifying the victim invariably leads to nabbing the killer. So the Forgotten Network fans out, encountering a number of uncooperative if not downright surly citizens who may or may not have known Highway Jane.
Alex's helpmates include Candace Butler (Michelle Borth), who's bored with her mundane day job; portly telephone repairman Walter Bailey (Bob Stephenson); "street smart," aspiring artist Tyler Davies, who's been court-ordered to join the team; and homicide detective Grace Russell (Rochelle Aytes), who serves as a liaison to the Chicago cop shop.
But what drives Alex? Well, he's a father haunted by a back story that's revealed in the premiere episode's closing minutes.
Bruckheimer invests
The Forgotten
with the usually solid production values. So it looks good while feeling vacant. One of its competitors on Tuesdays at 9 p.m. (central) is CBS' far superior newcomer,
The Good Wife
, which also is set in Chicago and premieres on the same date.
Were Bruckheimer under oath, he'd admit to wanting to trade shows in a New York minute. Unfortunately for him, the trading deadline has passed.
GRADE:
C-minus