Fox's Chicago Code again stirs the city's corruption pot
02/04/11 01:15 PM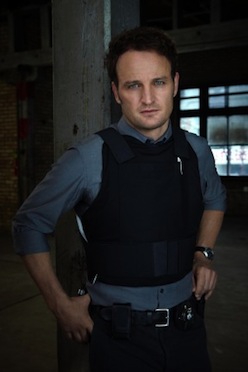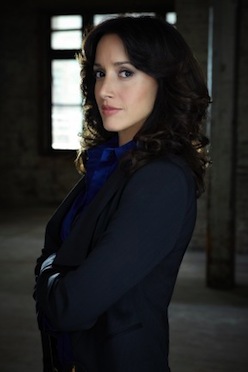 Jason Clarke, Jennifer Beals co-star in The Chicago Code. Fox photo
Premiering:
Monday, Feb. 7th at 8 p.m. (central) on Fox
Starring:
Jason Clarke, Jennifer Beals, Delroy Lindo, Matt Lauria, Devin Kelley, Todd Williams, Billy Lush
Produced by:
Shawn Ryan, Tim Minear
By ED BARK
Chicago and corruption still suit one another, at least within the parameters of a new cop series set in the Windy City.
Fox's
The Chicago Code
, created by Shawn (
The Shield
) Ryan, premieres Monday after what's certain to be a steady promotional drumbeat during Sunday's Super Bowl XLV telecast. Following
House
won't hurt either.
Ryan, a native of nearby Rockford, Ill., knows how to make a TV series pop and percolate, even if
Chicago Code
sometimes looks better than the sum of its parts.
He's also adept at making adjustments. In its first go-around, the then titled
Ride-Along
intended to "make the viewer feel as if they were in the police car with the cops," Ryan said in a recent interview with TV critics. Now it's morphed into what he sees as an affectionate portrait colored in considerable part by Chicago's ties to two famous sons, gangster Al Capone and strong-armed Mayor Richard J. Daley.
"I think the thrust is that there are pockets of corruption that are firmly entrenched within the city that are historically based and continue on," Ryan said. "You only need to look at the front pages of the various Chicago newspapers to know that that does continue. And yet I consider it one of the greatest cities in the world . . . Maybe if we are lucky enough to get a Season 2, we change direction just slightly and do something a little bit different. But I don't think you can really do a show about Chicago politics and how the police interact with them without acknowledging that this is an element that has existed and still does exist."
Chicago Code
's Joan of Arc is scrappy police superintendent Teresa Colvin (Jennifer Beals), whose opening narration touches on both the city's long history of shakedowns and her shop owner father's gradual victimization at the hands of various thugs demanding protection payments.
Striding purposefully in low-hung police pants, she's now intent on investigating city government wrongdoing via a newly formed task force. But all-powerful alderman Ronin Gibbons (Delroy Lindo) will have none of this. He also reminds Teresa that she wouldn't have risen to the top of the cop shop without his backing.
The series' third pivotal character, veteran detective Jarek Wysocki (Jason Clarke), is first seen participating in an over-the-top police chase of a fugitive with whom he's had previous dealings. A fleet of other squad cars also is in pursuit, but Jarek talks the guy into giving himself up in return for getting to see his pregnant girlfriend before being jailed. He proposes marriage, she accepts and onlookers applaud before Jarek cuffs him while fellow officers watch. The entire sequence isn't even remotely believable, but it does get
Chicago Code
rolling before viewers get a chance to be bored by too much exposition.
Jarek and Teresa used to be street partners, which makes him just the guy to head a clandestine investigative task force. He first must play hard to get, of course. And Jarek also has a traumatic back story. His brother was killed in the line of duty, with the shooter still at large.
The first three episodes of
Chicago Code
meld everyday crime-solving with the cat-and-mouse game being played by Alderman Gibbons and those out to finger him. Lindo is letter-perfect in this role, whether giving orders or taking his turn at narrating. "They say Chicago is the city that works," he explains in one of the voice-overs. "What some people never understand is it works in a lot of different ways."
Chicago Code
doesn't always work. Beals, now 27 years removed from her big breakthrough in
Flashdance
, can be a bit wooden in some of her scenes. And the dialogue occasionally seems as though it's written on a sandwich board. As when an aide tells Beals' character in Episode 2, "You're one of the youngest superintendents ever in Chicago, the first female one, controversial to say the least. There are a lot of unhappy coppers that would love to see you fail."
Jarek's allegiance to the White Sox -- and complete disdain for anyone daring to be a Cubs fan -- is also more than a bit overdone.
Supporting characters include Jarek's new whiz kid partner, Caleb Evers (Matt Lauria from
Friday Night Lights
), and his niece, Vonda Wysocki (Devin Kelley), of whom he's very protective. Add undercover cop Liam Hennessey (Billy Lush), who's infiltrated the Irish mob but is in constant danger of being exposed. Chicago itself also plays an estimable role. The series is shot entirely on location, giving many of the city's atmospheric neighborhoods a chance to take their bows.
Chicago Code
has a snappy, snappish leading man in Clarke's Jarek, although the real star of the show may turn out to be Lindo. His kingpin alderman keeps turning the screws with
savoir faire
, particularly in the third hour available for review. He also likes a stiff drink at the ready and his ears smooched by a comely girl Friday.
It all works well enough to put
Chicago Code
among the better new dramas of the season. But does it make one want to shout its praises from rooftops? Not at this point. What we have so far is a sturdy cops/crooks/corruption series that falls short of
The Shield
but is certainly capable of someday earning its own stripes.
GRADE:
B