New series review: Californication (Showtime)
08/12/07 07:30 PM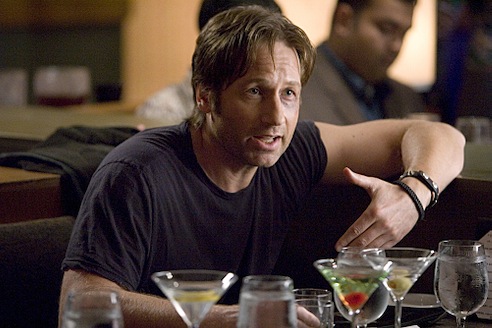 David Duchovny lines 'em up in Showtime's Californication.
Premiering:
Monday night, Aug. 13 at 9:30 (central) on Showtime
Starring:
David Duchovny, Natascha McElhone, Madeleine Martin, Evan Handler
Produced by:
Tom Kapinos, Stephen Hopkins, David Duchovny
By ED BARK
So are we really supposed to pity poor Hank Moody?
Here he is filthy rich from selling off his acclaimed bestseller into a ridiculed Hollywood movie. But gee, now Hank has both writer's block and a failed relationship in the bank. So he figuratively bangs his head against the wall while otherwise banging a succession of great-looking women.
Four bare their wares in Monday's half-hour premiere of Showtime's
Californication
. Hank also dreams about a knockout nun giving him a blow job. Nice work if you can get it in a dark but also lamentably dim comedy that follows the third-season opener of
Weeds
.
Hank not surprisingly is played by David Duchovny, who's been wandering in a wilderness of bad career choices before and since
The X-Files
left Fox five years ago. Still well-preserved at 47, Duchovny simply isn't an actor that most people yearn to see anymore. A haze seems to accompany his every move or movie. He was funny as himself on HBO's
The Larry Sanders Show
, but that's been a long while ago. Still, you still get the feeling that Duchovny still thinks America should kiss his ass, which he bares for good measure in the opening minutes of
Californication
.
Hank also has a 12-year-old daughter, Becca (Madeleine Martin), who was born during his years with Karen (Natascha McElhone), who's now engaged to another man. He now yearns to hook back up with her, but consistently undermines his cause with booze-fueled bed-hopping. Even his pre-teen daughter knows the score all too well.
"Why is there a naked lady in your bedroom?" she asks during one of their custodial outings. "There's no hair on her vagina. Do you think she's OK?"
Those are the jokes, folks. And
Californication
seems to think they're pretty cute. So does Hank of course, who tells his agent, Charlie (Evan Handler), "I'm disgusted with my life and myself, but I'm not unhappy about that."
He then demeans a dinner date in a condescending manner that might make some women yearn to punch Hank's teeth through the back of his neck. Oh, but that's how our anti-hero rolls. Later, in what's meant to be a redemptive strike, Hank bounds into action and out of the sack upon learning that daughter Becca has run off to an adult party.
"You smell like pussy," Karen rebukes him before they combine to make the rescue.
By the way, the name of Hank's bestseller is
God Hates Us All
. It begat the "crappy romantic comedy"
A Crazy Little Thing Called Love
, starring "Tom and Katie."
Well, we all know who that is. Duchovny has some nerve, though, taking shots at TomKat. Were anyone else starring in
Californication
, the reference to a "crappy romantic comedy" might well have Duchovny's name on the receiving end.
He's definitely got that one coming.
Grade:
C-minus