Reviewing Orange is the New Black after viewing all 13 Season 4 episodes
06/29/16 10:17 AM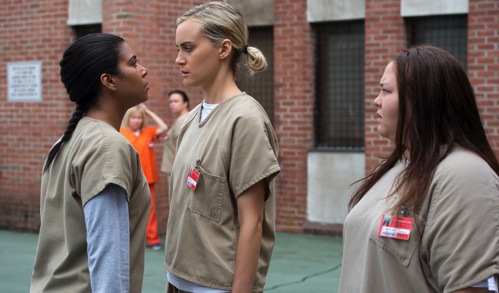 Showdowns abound in stark Season 4 of Orange is the New Black.
Netflix photo
By ED BARK
@unclebarkycom on Twitter
Fittingly in this case,
Orange is the New Black
has set some high bars for itself during its first three seasons.
The Emmy-winning Netflix comedy/drama series, at its best when playing it more seriously, takes a decided turn back in that direction with a gripping and game-changing Season 4. During the course of all 13 episodes, look for a self-defense killing followed by dismemberment of the corpse; the death of a regular cast member; a branding triggered by an ad hoc race war and the arrival of a new force of security guards headed by an openly gay, uncompromising bearded giant named Desi Piscatella (Brad William Henke), who's aided and abetted by the sadistic Thomas "Humps" Humphrey (Michael Torpey).
If Season 3 struck a too frivolous tone, then Season 4 compensates with a much starker look at the rough-and-tumble of prison life. Comedy is still prevalent, particularly in the earlier hours. But a rose garden has little in common with prison life, save for the thorns. So
OITNB
re-calibrates itself in that direction, with well-meaning but ever-compromised Director of Human Activities Joe Caputo (Nick Sandow) finally realizing the obvious after his good intentions are waylaid time and again.
"This place crushes anything good," he tells a virginal new guard in hopes of persuading him to get out while he can.
Season 4 also is notable for the arrival of "Queen of Cuisine" Judy King (Blair Brown), who supposedly is loosely modeled after Martha Stewart but in time comes off as much more of a Paula Deen. Brown commands this role with an iron drawl, poo-poohing preferential treatment while at the same time reveling in it after being jailed on a tax evasion conviction. But of course she's not a racist -- in her mind -- despite hosting an earlier TV puppet show starring dumb ol' Chitlin' Joe. Footage pops up on a prison TV set after it's unearthed by a cable news network. Aw, shucks, everyone has a little transgression now and then. "I am the friendliest racist you're ever gonna meet," she declares to Poussey Washington (Samira Wiley), who had been star-struck.
Loopy Lolly Whitehill (Lori Petty), who joined the series in Season 2, likewise is a standout. Her makeshift cardboard "time machine" is an escape from all those crazy voices in her head. Additionally, the former crusading journalist (as we see in flashbacks) thinks she can do considerable good by changing certain courses of events. "If I can go back in time, I can stop Jimmy Carter from starting FEMA," she reasons.
Lolly also can be lucid. "Dead girl porn. Cosby dream shot," she notes in the opening episode while participating in a coverup. Is she crazy enough to be dangerous -- or will no one take her seriously no matter what she says? Lolly's eventual bonding with veteran prison guard Sam Healy (Michael Harney) is an oft-touching blend of two lost souls.
Charter inmate Tasha "Taystee" Jefferson (Danielle Brooks) also has some terrific moments, both comedic and tragic. Maria Ruiz (Jessica Pimentel) comes to the fore as the leader of an increasingly aggressive faction of Hispanic prisoners who clash with series lead Piper Chapman (Taylor Schilling) on both business and racial matters. And Kate Mulgrew's Galina "Red" Reznikov is terrific as always.
Episode 12 of Season 4, subtitled "The Animals," is directed by
Mad Men
creator Matthew Weiner. So of course it's extra eventful and most notable for a sudden death scene in the prison cafeteria. The episode also marks the return of a long-isolated inmate, the rekindling of a dormant relationship and the full realization by Caputo that the corporation now running the Litchfield prison is solely interested in profits at any cost.
Season 4's finale ends with a jarring cliffhanger that's the polar opposite of last season's climactic, joyous romp in a nearby lake. Netflix already has renewed
OITNB
for fifth and sixth seasons. At the end of this one, the bite is back with a vengeance while the supply of story lines has multiplied rather than calcified. As with HBO's
Game of Thrones
, the best seems yet to come after rejuvenating seasons that will leave many a faithful fan stoked for more.
GRADE:
A
Email comments or questions to:
unclebarky@verizon.net