FALL TV PREVIEW: New series -- Carpoolers (ABC)
10/02/07 09:42 AM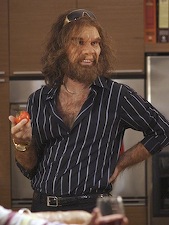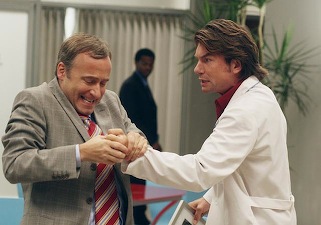 ABC's Cavemen wasn't available for review; its Carpoolers will do.
Premiering:
Tuesday, Oct. 2, at 7:30 p.m. (central) on ABC
Starring:
Fred Goss, Faith Ford, Jerry O'Connell, Jerry Minor, Tim Peper, T.J. Miller, Allison Munn
Created by:
Bruce McCulloch
By ED BARK
ABC's trio of hairy Neanderthals leads off Tuesday nights in
Cavemen
. The network is hiding them from critics after drastically reworking the pilot episode. So we're left with the four highly vexed men of
Carpoolers
, one of whom at least sports a thin mustache.
You wonder how they can build a sitcom around HOV lane-ing by four office building mates.
Carpoolers
does have a little something under the hood, though, even if its main men collectively are more than a little weak downstairs -- and up top.
Beaten down Aubrey (Jerry Minor) has a nest full of kids and a faceless, do-nothing wife who's seen only in repose. For him, sex is seeing his wife naked. The rest of the process can only lead to another kid.
Weak-kneed Gracen (Fred Goss) feels emasculated after deducing that both his wife, Leila (Faith Ford), and tighty whitey wearing grown son, Marmaduke (T.J. Miller), are making more coin than him.
Newly divorced Laird (Jerry O'Connell) has been stripped of virtually all earthly possessions by his ex-.
And newlywed Dougie (Tim Peper), also a neophyte at the carpooling game, keeps getting hit by moving vehicles.
Any of the millionaire men in ABC's new
Big Shots
could mash these poor saps with their money clips. Still, their pathetic misadventures and conversations can be at least moderately amusing. Add some hoot-worthy in-car singalongs and stir with a decent sight gag or two. Goofier than Goofy,
Carpoolers
won't be measuring up to any classic comedies but at least can play in the same league with
How I Met Your Mother. In fact it might be a little better than that.

Tuesday's opener -- "Gentlemen, let's carpool! " -- finds Gracen threatened by his wife's purchase of a $200 toaster with "her money." So just how much does she make as a house flipper? Laird drops that dime, and misunderstandings ensue.

A more amusing second episode is subtitled "Laird of the Ring." Said Laird coaxes Gracen into letting him borrow his wedding ring because he's after a woman who craves having affairs with married men. He impulsively invents a quartet of kids, two of them named Colgate and Dasher. This eventually leads to the episode's prize line from laconic Marmaduke.

Meanwhile, Aubrey is sneaking off to a motel room during work hours, with Dougie trailing him. What's that all about?

Carpoolers won't be zooming to the top of the ratings charts. In fact, it might well disappear before Christmas. Whatever its fate, it's no out-and-out lemon. At worst it's stupid fun.

Grade: B-minus