Second coming of Cupid lacks that certain some-zing
03/30/09 07:03 PM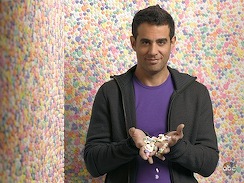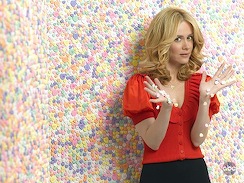 Bobby Cannavale, Sarah Paulson front ABC's Cupid redo.
Premiering:
Tuesday, March 31st at 9 p.m. (central) on ABC
Starring:
Bobby Cannavale, Sarah Paulson, Rick Gomez, Camille Guaty
Created by:
Rob Thomas
By ED BARK
Does Cupid wear Arrow shirts? And if so, wouldn't that make for some nice product placement?
Just trying to help out in these sub-desultory economic times, where virtually everyone's budget is stretched far tighter than when ABC's original
Cupid
series failed to make enough viewers quiver. The new
Cupid
premieres Tuesday (
9 p.m. central
), following another episode of ABC's best available launch pad,
Dancing with the Stars
.
ABC's first try, in fall 1998, starred a pre-
Entourage
Jeremy Piven as matchmaker Trevor/Cupid, who claimed to be from Mount Olympus. His skeptical psychologist, Claire, was played by Paula Marshall, who since has burned through a number of prime-time series, including the current
Gary Unmarried
on CBS.
Despite being amusing and sometimes quite touching, the original
Cupid
lasted less than five months in a Saturday night slot opposite CBS'
Walker, Texas Ranger
and NBC's
Profiler
. Back then, the longstanding Big 3 broadcast networks actually used to program Saturday nights with new scripted series. Fox, of course, had and still has
COPS
and
America's Most Wanted
.
The new Cupid/Trevor is played by Bobby Cannavale, best known for his recurring role as Vince D'Angelo on
Will & Grace
. Sarah Paulson (
Studio 60 on the Sunset Strip
), who's almost as well traveled as her predecessor, succeeds Marshall as Claire.
The old
Cupid
was set in Chicago; this one's yet another Manhattan-based entry. Otherwise the mission is the same. Cupid/Trevor says he must bring 100 "romantically challenged" couples together before he can return in good standing to Mount Olympus. One hundred also happens to be the magic number of episodes for syndicated rerun profitability, but forget about that happening.
In Tuesday's opener, Trevor strives to hook up an Irish musician named Dave with a woman he met in the old country but hasn't been able to locate in NYC. But a
New York Post
reporter named Madeline has bigger eyes for Dave. We're supposed to root for her, but really, who can feel much of anything for an employee of the city's reliably sleaziest tabby?
Anyway, it's all pretty gooey -- or karaoke as Simon Cowell would say. In fact, much of the romantic action takes place at the Tres Equis karaoke bar, run by Trevor's friend, Felix (Rick Gomez). We also get an early scene in which Trevor leads a group sing-along of "All You Need Is Love" while housed in a mental institution. Arrrgh. Please stop.
The relationship between patient Trevor and Dr. Claire is also supposed to bloom and grow. But it's pretty ho-hum for starters. Piven and Marshall were instantly more appealing in that respect.
So chalk up this second coming of
Cupid
as being pretty corny but basically harmless. It needs more heart, but probably won't get that far before the lethal ABC cancellation arrow takes aim.
GRADE:
C