Big after-splash for Sharknado 2: The Second One
07/31/14 03:14 PM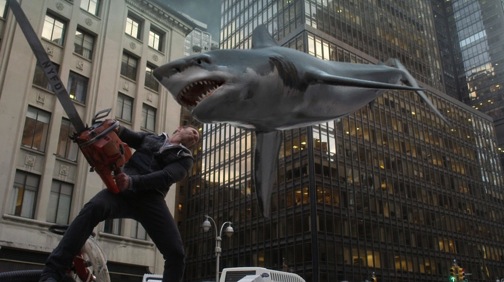 Ian Ziering's in the mood for a New York cut shark steak. Syfy photo
By ED BARK
@unclebarkycom on Twitter
Viewers howled while tweeting their brains off. Myself included.
Now Syfy is giddy, oh so giddy, with Wednesday night's national ratings and social media bonanza for a little thing called
Sharknado 2: The Second One
.
The network says it drew 3.9 million viewers, with 1.6 million of them within the advertiser-prized 18-to-49 age range. That made it Syfy's most-watched original movie ever, with a 183 percent increase over the total audience for last July's original
Sharknado
and a 190 percent uptick in 18-to-49-year-olds.
Syfy also is touting
Sharknado 2
as "the most social movie on TV ever," with a staggering one billion "estimated impressions for Twitter conversations." Furthermore,
Sharknado 2
at one point "held all top 10 trending topics in the United States," even drawing more mentions than Miley Cyrus' twerk-fest at the 2013 MTV Video Music Awards.
Sharknado 2
also had more 18-to-49-year-old viewers Wednesday night than competing programs such as CBS'
Extant
and Fox's
So You Think You Can Dance
.
Yes, a
Sharknado 3
currently is in development for next summer.
Just so they don't go to waste, here are some of my live
@unclebarkycom
tweets during
Sharknado 2
.
***
Al Roker's work in #Sharknado2TheSecondOne finally qualifies him for AMS Seal of Approval.
***
Statue of Liberty head as lethal bowling ball best spec effect in #Sharknado2TheSecondOne. Some will see as optimum way to protect border.
***
That's legendary Herb the Shark fighting Fin right now. Worked for scale so he could be part of this prestigious picture.
***
Most unbelievable scene in #Sharknado2TheSecondOne. A Met hits a home run.
***
News of showman Robert Halmi Sr.'s death comes during #Sharknado2. Perhaps fitting. He had pirates attack Noah's Ark in big NBC splasheroo.
***
Tara Reid was just upgraded from losing a hand to losing an arm. Or am I missing something of vital importance? #Sharknado2TheSecondOne
Sorry.