The Catch gives Mireille Enos a complete makeover and Shonda Rhimes another ABC vehicle to drive
03/21/16 03:39 PM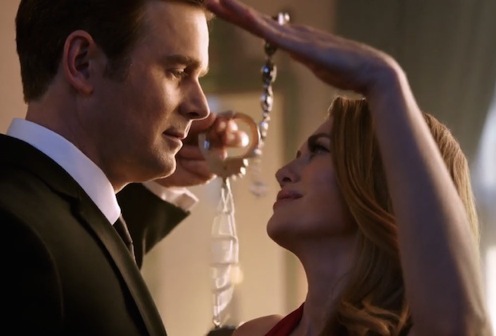 Peter Krause and a glammed up Mireille Enos in The Catch ABC photo
Premiering:
Thursday, March 24th at 9 p.m. (central) on ABC
Starring:
Mireille Enos, Peter Krause, Rose Rollins, Sonya Walger, Alimi Ballard, Jacky Ido, Jay Hayden, Elvy Yost
Produced by:
Shonda Rhimes, Betsy Beers, Allan Heinberg, Julie Anne Robinson
By ED BARK
@unclebarkycom on Twitter
Mireille Enos seldom if ever let a smile be her umbrella in AMC's
The Killing
, even during those drenching, ever-present rainstorms.
Encased in thick turtle neck sweaters, she mostly grimaced and glowered, with an occasional pout tossed in. Is it possible to laugh or even smile less than George Will? Enos gave it a very game go.
That all changes in the early stages of ABC's very modern and stylish
The Catch
. Enos' character, high-priced L.A. private investigator Alice Vaughan, is giddy, oh so giddy, over her engagement to suave Christopher Hall (Peter Krause). She's even picked out a slinky, shimmering wedding dress. And it wouldn't be out of place to accessorize it with a few smiley faces.
Alas, it turns out to be a happy daze. "Christopher" has been conning Alice and her crack team of gumshoes. And by the end of Thursday's fairly engaging premiere episode, the cat-and-mouse game is on in earnest after Alice's beau vanishes and returns to the possessive arms of criminal mastermind Margot Bishop (Sonya Walger from
Lost
and Krause's previous series,
Parenthood
).
In part meant to evoke
The Thomas Crown Affair
, this is producer Shonda Rhimes' latest gift to ABC following the successful launches of
Grey's Anatomy, Private Practice, Scandal
and
How to Get Away with Murder
, whose Thursday night slot now goes to
The Catch
. Whether this one also has legs will be determined in due time. But Rhimes has whiffed just once before, with her 2011 doctor drama
Off the Map
.
Enos not only gets to smile and laugh. She's also a clothes horse in flawless, flattering makeup. Her Anderson/Vaughan Investigations, co-founded by best pal and business partner Valerie Anderson (Rose Rollins), serves and protects a strictly well-heeled clientele. But then along comes the guy who sweeps Alice off her feet, compromises everything and then goes poof while exhibiting some remorse in the form of a longing look or two.
Will poor Enos ever be allowed to smile again in the role of jilted dupe? Well, yes, but for now only in repeated flashbacks that document the way they were when she very happily whispered sweet nothings to the man of her dreams -- and now nightmares.
The Catch
takes a while to kick in, afflicting viewers with way too much of Pitbull's "Fireball" during an extended early game of now-you-see-me-now-you-don't. The sequence is very nicely edited, though, and also split-screened in the manner of both
Thomas Crown Affair
films.
It also turns out that Krause's con artist has another pursuer -- FBI agent Jules Dao (Jacky Ido). He wants Alice to join forces with him but she's of course reluctant at first.
All of this plays better as it goes along. But with only the first episode made available for review, it's an open question as to how well
The Catch
will wear. Enos and the never out-of-work Krause make for two very attractive protagonists. This is still easy enough for Krause to pull off, but it's the first time Enos has gotten a full-blown chance to be glamorous. Depending on a viewer's earlier exposures to
The Killing
, it might take a while to get used to this. A hard rain's not gonna fall on
The Catch
, where everyone looks like a million bucks -- while in pursuit of same.
GRADE:
B-minus
Email comments or questions to:
unclebarky@verizon.net