CW's Cult aggressively defies convention -- and explanation
02/19/13 08:35 AM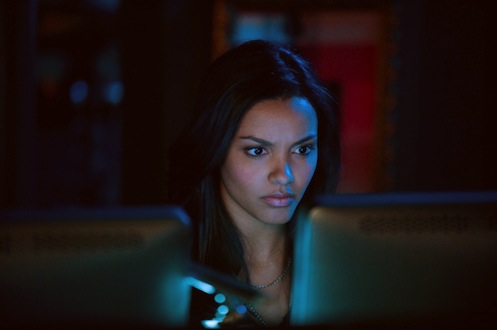 Cult's dazed denizens include Jessica Lucas as Skye Yarrow. CW photo
Premiering:
Tuesday, Feb. 19th at 8 p.m. (central) on The CW
Starring:
Matt Davis, Jessica Lucas, Alona Tai, Robert Knepper
Produced by:
Rockne S. O'Banon, Josh Schwartz, Stephanie Savage, Len Goldstein, Jason Ensler
By ED BARK
@unclebarkycom
A hit TV series on The CW? No, it's only make believe in
Cult
, the odd yet oddly watchable new drama about a show within a show and its killer implications.
Principal producers Rockne S. O'Bannon and Josh Schwartz respectively have pretty decent bloodlines in
Farscape
and
Chuck
. So maybe playing along for a few weeks wouldn't be an entirely bad idea, even if you can't deduce what the deuce is going on from the only episode made available for review.
The always creepy Robert Knepper, who played deranged escapee Theodore "T-Bag" Bagwell on Fox's
Prison Break
, is fleetingly seen here as demonic Billy Grimm. He's the star of a rabidly watched TV series called
Cult
. But has he also spilled over into real life?
Elements of Fox's
The Following
come into play as a fired reporter for
The Washington Post
(Matt Davis as Jeff Sefton) investigates the mysterious disappearance of his troubled brother, Nate (James Pizzinato). Is Grimm the possible mastermind? Are other members of the cast and crew involved? Was Paul the Walrus?
Teaming up with Jeff is the beauteous and increasingly suspicious Skye Yarrow (Jessica Lucas), a research assistant on the
Cult
TV series within this TV series. Meanwhile on-screen, (apparently) fictional LAPD detective Kelly Collins (Alona Tai) doggedly searches for her missing sister.
Save for a brief appearance as an actor on the
Cult
TV series set, Knepper is seen only in character as Billy Grimm. In a scene-setting segment of grainy footage at the start of Episode 1, Knepper as Grimm insists he's not seducing anyone into his nefarious web. "It is they who are seeking connection," he says. "Which I provide."
Television programming executives and producers have long been united in their insistence that violent acts off-screen are not directly influenced by violent acts on-screen. But they're ever-vigilant, of course, in what they depict. So goes the mantra.
Cult
seems to be at cross-purposes with this standard dodge. It sets up a premise in which devoted fans of the show are both zombie-like and susceptible to further manipulation. Or at least that seems to be what's going on, complete with a catch phrase. "Hey, these things just snap right off," disciples say before killing themselves.
The suspense builds fairly effectively in Tuesday's opening hour, with Jeff eventually playing a bizarre DVD disc left behind by his missing brother. Game on?
There's a smidge of levity, too. A young gun former Fox executive brought in to punch up
Cult
's storylines (or something like that) brags that he "kept Joss" on for an extra season. This almost certainly is a reference to fave rave producer Joss Whedon and his science-fiction series
Dollhouse
, which premiered in February 2009 and spilled over into the following fall season despite its anemic ratings.
Dollhouse
lasted for 27 episodes before Fox evicted it. The CW has ordered 13 hours of
Cult
, which has the potential to attract a cult following on a network whose most successful series (
The Vampire Diaries, Supernatural, Arrow
) in reality have little more than cult followings.
Although eluding any cogent explanation of what it's all about,
Cult
may have enough going for it to merit at least a minimal investment. It somehow manages to be more inviting than ABC's new and thoroughly preposterous
Zero Hour
, although both series could be the stuff of sadistic semester-ending writing essays. All a professor would have to say is, "You have 45 minutes to explain what
Zero Hour
or
Cult
are trying to tell us. Take your pick. And good luck trying to pull something out of your asses."
GRADE:
C+
unclebarky@verizon.net