Never been better: Season 3 of FX's Louie clears its own high bar
06/27/12 01:30 PM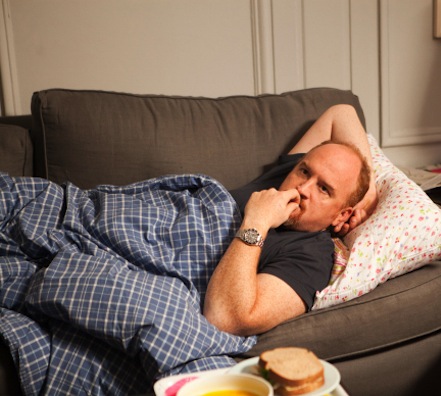 Louie mulls his options in a horizontal mode. FX photo
By ED BARK
@unclebarkycom
Up the subway steps. Over to Gino's for a slice. Then a descent to the Comedy Cellar. All of it to familiar theme music.
Perhaps you know where we're otherwise going here. This weekly open to FX's bravura
Louie
is the only same-old, same-old in a series whose maestro is a mother(f***er) of invention.
The Thursday June 28th Season 3 premiere episode (
9:30 p.m. central
) re-cements
Louie
at the very top of all TV comedies. And Louis C.K. bears full responsibility as its creator, executive producer, writer, director, editor and star. Maybe next season he he can add gaffer and key grip.
FX sent the first five half-hours for review, and they're all gems. But Episode 2 is the Hope Diamond of the bunch, even if Louis has anything but high hopes for everything he undertakes.
Subtitled "Telling Jokes/Set Up," it begins with Louie being invited to dinner at the home of fellow stand-up Allan Havey (as himself) and his wife. The meal instead is something of a come-on, with Louie initially enduring an unwanted blind date with a gruff small business owner named Laurie (guest star Melissa Leo).
She saws her food loudly and has little to say until inviting Louie outside for a smoke. Matters quickly escalate from there, with Leo turning in a performance that few actresses would even attempt -- let alone pull off. You might feel unfit to go to Disneyland for awhile after watching the two of them play off one another in ways that push even the FX envelope.
The fourth and fifth episodes find Louie smitten with a book store employee (Parker Posey as Liz) after his six- and 10-year-old daughters wonder when their divorced dad will get a steady girlfriend. This proves to be another wild ride of a "date," with a madcap Posey coaxing Louie to jump through all of her hoops. Sometimes nicely, sometimes not.
Episode 3 hits the road to Miami, where Louie is booked to do standup at a beachfront hotel. A hunky young lifeguard mistakenly thinks Louie is drowning. Post-"rescue," they bond and then get out and about to see Miami "for real." It's a semi-touching episode with awkward overtones. Because Louie just can't seem to navigate a smooth relationship with anyone.
In Thursday's season opener, he's typically dissolving yet another relationship, but can't bring himself to directly call it quits with April (Gaby Hoffmann). She instead walks him through it before Louie impulsively buys a motorcycle after seeing his illegally parked car destroyed before his eyes at a construction site. Louie on two wheels proves to be no better than Louie on four wheels.
Each episode again offers snippets from his Comedy Cellar standup act before launching/lurching into Louie's latest trials and errors. Comparisons to Larry David's in part autobiographical
Curb Your Enthusiasm
are somewhat appropriate. Except that Louie is a slovenly dresser, has a lumpy physique and is far less prone to histrionics. You could actually last longer with him in a restaurant or bar.
Through it all, the star of the show remains unafraid to put himself in debasing situations. A plain-faced female comedian informs Louie he's "bad at sex" and has "really ruined my night in two ways" by inviting her to have dinner with his kids. And Posey's loopy Liz gets him to try on a shimmering gold cocktail dress before laughing uproariously in his face.
On the other hand, "Congratulations to you. Because you are officially great," she adds on their first night out. Victories don't get any smaller.
This is a comedy that succeeds by pretty much ignoring any and all "Don't go there" dictums. Louis C.K. just won't have any of that. But his ultimate goal is to make you laugh more than cringe. And in Season 3, he looks to be better than ever at bringing his own unique Full Monty to virtually each and every scene.
GRADE:
A