New fall season: Witches brew hoo hooey in CW's The Secret Circle
09/14/11 12:53 PM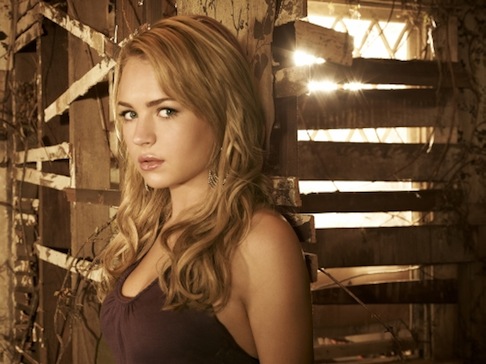 Britt Robertson doesn't know which way is witch. CW photo
Premiering:
Thursday, Sept. 15th at 8 p.m. (central) on The CW
Starring:
Britt Robertson, Thomas Dekker, Phoebe Tonkin, Shelley Hennig, Gale Harold, Louis Hunter, Ashley Crow, Natasha Henstridge
Produced by:
Kevin Williamson, Andrew Miller, Leslie Morgenstein, Gina Girolamo
By ED BARK
The introspective teens of
Dawson's Creek
didn't have otherworldly powers, but were haunted nonetheless by the prospect of growing into stale dead-end adults in fictional little Capside, MA.
The principal teens of
The Vampire Diaries
are mostly fanged immortals or werewolves prowling fictional little Mystic Falls, VA.
Both TV series, the latter based on a batch of bestselling books, are produced by Kevin Williamson, who won't grow up, no, he'll never grow up.
On the contrary, he's got another one for ya.
The Secret Circle
, premiering Thursday on The CW after
Vampire Diaries
, presents a coven of teenage witches, none of whom is named Sabrina. Adapted from a series of books by the
Vampire Diaries
author, it originates in fictional little Chance Harbor, WA. That's where cutie Cassie Blake (series star Britt Robertson) has come to live with her grams after moms got burnt to a crisp in a house fire started by an evil adult male witch.
Williamson, 46 and also the guy behind the four
Scream
movies, still doesn't seem ready yet for anything other than variations on the trials and tribulations of minors -- with maybe a few college students mixed in. Teen angst, lately spiced with supernatural powers, is his go-to field of play. And
Secret Circle
possibly offers the possibility of a crossover in which a vampire or two comes swaggering into town, or vice-versa.
His latest kid heroine doesn't appear to be any great shakes as an actress just yet. But she does know how to run off when feeling threatened or show off a series of nifty little nightie tops while tucking herself into bed. Cassie otherwise doesn't learn of her powers until sneering Fay Chamberlain (Phoebe Tonkin), the resident meanie teen witch, gets in her grill after tiring of all the small talk.
"Oh for God's sake, spit it out!" she bellows. "You're a witch. You're a full-blooded, 100 percent witch. We all are. There. Done."
Such truth in packaging prompts Cassie to run off again, this time into the woods. She's followed by the well-intended Adam Conant (Thomas Dekker), a doe-like witch who has a steady witch girl named Diana (Shelley Hennig) and a spooked, beaten-down drunken dad. In the premiere episode's one really charming scene, Cassie and Adam combine their powers to make a drop of water levitate from a leaf before more follow. Cassie then runs off again.
Secret Circle
, replete with The CW's usual heavy doses of sappy pop music mood-ruiners, eventually gets around to outlining its basic plot point. Namely that Cassie completes a full complement of six witches, whose powers now will be magnified "100 times over." This enables the demonic Fay to quickly conjure up a fierce thunder and lightning storm. Before that, her bag of tricks was pretty much limited to scaring poor Cassie by making her little car get smoke-filled with her locked inside.
Meanwhile, the super-evil Charles Meade (Gale Harold) is conspiring with Fay's mother, Dawn (Natasha Henstridge), the foxy high school principal. They've got big, unsavory plans for these witch kids.
Fans of
Vampire Diaries
likely will happily play along. And maestro Williamson will keep repeating himself all the way to what definitely won't be the blood bank.
GRADE:
C-minus