NBC News draws the line on election night by separating itself from partisan MSNBC and expanding coverage into late night hours
10/21/10 01:42 PM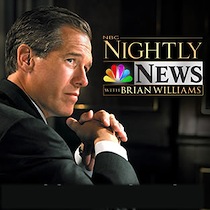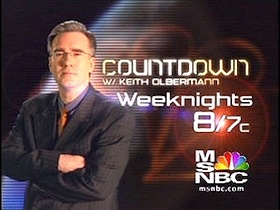 By ED BARK
NBC News isn't about to acknowledge this publicly.
But Thursday's "unprecedented" decision to expand its Nov. 2nd mid-term election coverage into late night hours seems like an obvious way to keep both Brian Williams and Tom Brokaw away from an increasingly partisan MSNBC. It's a clear line of demarcation between a broadcast network news division that still touts its objectivity and a cable sister whose new "Lean Forward" promotional campaign is aimed directly at the conservative Fox News Channel.
Williams, the
NBC Nightly News
anchor, and Brokaw, his predecessor, have crossed over to MSNBC during previous big political events. That's largely because they had no place else to go once NBC News ended its coverage.
But MSNBC increasingly has become an uncomfortable spot to be in -- at least during nighttime hours -- if you're otherwise intent on presenting the news in a reasonably unbiased manner. The recent debut of Lawrence O'Donnell's 9 p.m. (central) program gives MSNBC a quartet of avowedly left-of-center hosts, with Ed Schultz, Keith Olbermann and Rachel Maddow the incumbents.
Hardball
maestro Chris Matthews is somewhat more even-handed, but not so much lately.
On election night at least, there apparently will be scant mixing and matching. NBC is preempting both
The Tonight Show with Jay Leno
and
Late Night with Jimmy Fallon
to give Williams, Brokaw and others a home of their own. They'll be joined by
Meet the Press
moderator David Gregory, correspondents Andrea Mitchell and Savannah Guthrie, and Washington Bureau chief Mark Whitaker.
According to the NBC News publicity release, just two principal players will be crossing over. Political director/chief White House correspondent Chuck Todd and utility news anchor Lester Holt will be dividing their time between NBC and MSNBC.
MSNBC's all-night election night coverage otherwise will be unto itself, with Matthews, Olbermann, Maddow, O'Donnell, Schultz and contributor Eugene Robinson at the helm.
During the mid-summer TV network "press tour" in Beverly Hills, MSNBC president Phil Griffin was asked by unclebarky.com whether viewers are really well-served by polar opposite 24-hour news channels offering almost entirely different slants on just about every issue of import.
"We've carved out a place where we know there's a sensibility and there's an audience that likes it," he said in part. "And we've had a great deal of success, and we're proud of it."
O'Donnell added that "the audiences voted on this" and there are still "straight down the middle" presentations on both
Nightly News
and Jim Lehrer 's PBS
NewsHour
program.
"Do you want to imagine a world in which the Fox News Channel was doing what it was doing in prime-time and everybody else was doing something that was much closer to what Jim Lehrer does?" he asked. "What would that feel like? And what would it feel like to an audience that disagrees with Fox's angle?"
Given what MSNBC has become, it's becoming of the NBC broadcast news division to separate itself on a night when partisan rhetoric will be flying from candidates' camps while two opposing cable news networks again go to war. MSNBC may be the "Place For Politics," but it's well past being a comfortable home for either Williams or Brokaw. It's about time that all concerned realized that, and made other accommodations for them.