Katie does a handstand, but CBS isn't turning cartwheels over convention ratings
08/28/08 10:25 AM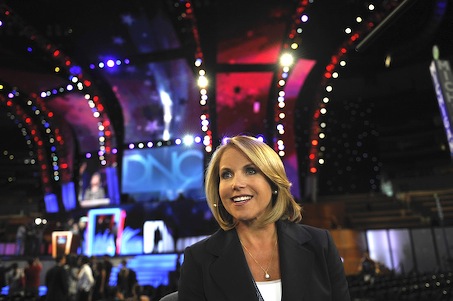 Katie Couric has been doing interviews -- and handstands -- in Denver during the Democratic National Convention. CBS photo
By ED BARK
Edward R. Murrow, Walter Cronkite or Dan Rather wouldn't have done it -- not that they had or have the agility.
But
CBS Evening News
anchor Katie Couric, still fighting to have "embattled" removed from most descriptions of her, seems totally oblivious to some of the impressions she's leaving while in Denver covering the Democrats.
On her latest CBS webcast, she did a handstand at a yoga retreat set up within the convention site's "Blogging Tent." CBS is hardly hiding this. Emails to TV critics tout this feat, noting that Couric "impressed many by the perfect handstand she did."
Couric also is shown getting a chair massage at the Youtube work site in a webcast headlined "Katie Chills With DNC Bloggers." Maybe it's her way of re-injecting a little of that old
Today
magic into her CBS news anchor persona. Nothing else has worked for her -- ratings-wise at least. The
CBS Evening News
continues to run a distant third, and CBS' prime-time convention ratings have been likewise dismal during the first three nights of coverage.
In fairness to Couric -- what a concept -- she's been doing more than just playing around. CBS also has alerted TV critics to her interview with failed 1988 Democratic presidential nominee Michael Dukakis, who fell on his sword in no uncertain terms earlier this week.
"Look, I owe the American people an apology," he told Couric. "If I had beaten the old man you'd of never heard of the kid and you wouldn't be in this mess. So it's all my fault and I feel that very, very strongly. So this is an important election for us, let me tell ya."
That's a helluva quote. But it's the subsequent handstand that sticks the landing. Anchors are entitled to be breezy at times. They're not concrete pillars. On-camera handstands and chair massages still should be out of bounds, though. Shouldn't they? Here's the video of playful Katie:
Watch CBS Videos Online