CBS' Scorpion is mostly lethally ridiculous
09/19/14 12:33 PM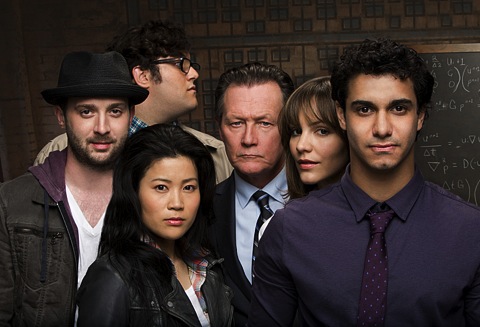 Robert Patrick (center) & his socially inept Scorpion team. CBS photo
Premiering:
Monday, Sept. 22nd at 8 p.m. (central) on CBS
Starring:
Elyes Gabel, Robert Patrick, Katharine McPhee, Jadyn Wong, Ari Stidham, Eddie Kaye Thomas, Riley B. Smith
Produced by:
Alex Kurtzman, Robert Orci, Nick Santora, Nicholas Wootton, Justin Lin, Heather Kadin, Scooter Braun, Walter O'Brien
By ED BARK
@unclebarkycom on Twitter
Robert Patrick basically is
Kurtwood Smith
with lots more hair.
Both veteran actors ply the hard-ass trade, snarling and scowling on big screens and small.
Patrick, who first got rolling as the relentless villain of
Terminator 2: Judgment Day
, is a good guy with a bad disposition in CBS'
Scorpion
. As federal agent Cabe Gallo, it's a retro-kick to hear him bellow, "My process involves my foot in your ass!"
His recruits are four high IQ "nerdy masterminds" led by Walter O'Brien (Elyes Gabel), a certified genius who years ago felt betrayed by Gallo. But old iron pants comes calling again when a big bad computer breakdown leaves 56 airliners in jeopardy. They'll all crash-land when their fuel runs out unless Walter, mechanical whiz Happy Quinn (Jadyn Wong), behaviorist Toby Curtis (Eddie Kaye Thomas) and "statistics guru" Sylvester Dodd (Ari Stidham) can devise a way to reboot everything.
This is all supposedly "inspired by a true story," although dramatic license clearly is in the driver's seat. That's how
Scorpion
is able to work in socially adept waitress Paige Dineen (Katharine McPhee), whose pre-teen son, Ralph (Riley B. Smith), is uncommunicative until Walter deduces that he's a genius, too.
There's considerable techno-talk in the premiere episode, with little of it making much sense. Walter's minions race around trying to hard wire or hot wire stuff before he says resignedly, "No place on earth has what we need."
But wait. What if we . . . Suffice it to say the high-speed way in which Walter and Paige save the day is totally ludicrous. Nonetheless, it's pretty well-staged after Paige first tells the self-important but adorably introverted Walter, "Oh, I get it. I'm a dumb waitress. But I'm smart enough to know that you're scared."
A genius probably didn't write the script.
Agent Gallo ends up dangling big money and a state of the art research lab in return for the quintet's promise to take on any and all future mission: impossibles. Paige is part of the team because she has the ability to interact with a wide variety of people after taking all of those orders at the diner. Meanwhile, Walter will further bond with Ralph, making Paige one happy mom for starters. Walter and Paige taking it to the next level is a given.
It's hoped that Patrick's character won't be cauterized in future episodes. He needs to remain ornery and never satisfied with his band of misfit handfuls. Still, he's in a series scheduled opposite the potent trio of NBC's
The Voice
, ABC's
Dancing with the Stars
and Fox's
Sleepy Hollow
. Putting a foot in their asses won't be nearly as easily accomplished.
GRADE:
C-minus
Email comments or questions to:
unclebarky@verizon.net