It's a home game of jeopardy in CBS' Hostages
09/19/13 12:19 PM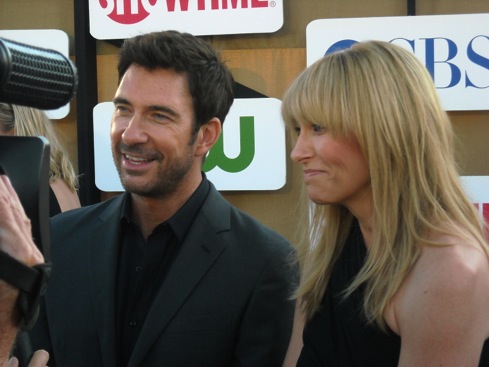 Hostages stars Dylan McDermott, Toni Collette in more pleasant surroundings during summer's TV "press tour." Photo: Ed Bark
Premiering:
Monday, Sept. 23rd at 9 p.m. (central) on CBS
Starring:
Toni Collette, Dylan McDermott, Tate Donovan, Sandrine Holt, Rhys Coiro, Billy Brown, Quinn Shephard, Mateus Ward, James Naughton
Produced by:
Jerry Bruckheimer, Jonathan Littman, Jeffrey Nachmanoff, Rick Eid, Omri Givon, Rotem Shamir, Chayim Sharir
By ED BARK
@unclebarkycom on Twitter
Producer Jerry Bruckheimer used to be money in the bank. And he still has the original
CSI
series in his CBS quiver, along with
The Amazing Race
.
But in a what-have-you-done-for-me-lately world, Bruckheimer is coming off the epic big-screen failure of
The Lone Ranger
in addition to a string of recent TV drama flops. Such as
Chase, The Whole Truth, The Forgotten, Miami Medical, Eleventh Hour, E-Ring
and
Dark Blue
.
The latter series, for TNT, starred Dylan McDermott as the surly, divorced leader of an elite undercover unit. And he's largely surly anew in
Hostages
, which is replacing
Hawaii Five-)
in CBS 9 p.m. (central) slot.
McDermott initially is seen as hard-charging, cocksure FBI special agent Duncan Carlisle, who ends a hostage situation on his own terms early in the premiere episode. But he's primarily a very taut-jawed hostage-taker who for unexplained reasons wants the president of the United States dead. Not by his hand, but via a topflight surgeon named Ellen Sanders (Toni Collette), who conveniently is scheduled to remove a non-malignant mass from the prez's lung.
Dr. Ellen is married to a secret-keeping husband (the redoubtable Tate Donovan as Brian Sanders). Their teen kids, Morgan and Jake (Quinn Shephard, Mateus Ward), also are hiding something. All of which makes it easier for Carlisle and his initially ski-masked team to invade the Sanders abode and exert a little leverage.
"We have eyes and ears everywhere. We have thought of
everything
," Carlisle assures Ellen, whose orders are to leave the president dead on the operating table or risk some dire consequences to her family.
In a way this is
Under the Dome
in a nice home, although it likely can't stay that way for too long lest the mailman get suspicious. As it now stands,
Hostages
is set for a half-season run set to end in January. Then the new
Intelligence
will take over, with Josh Holloway of
Lost
fame and Marg Helgenberger from
CSI
playing high-tech operatives.
Bruckheimer has affixed
Hostages
with relentlessly urgent theme music that builds and ebbs in a more or less continuous loop. Through the first hour, the tension is fairly palpable while Carlisle's motivations remain a mystery. Several others are in on this, though, including his father and one of President Kincaid's (James Naughton) high-level staffers.
Collette is an accomplished actress with a best actress Emmy Award in hand for her starring role in Showtime's
United States of Tara
.
Hostages
is a comparative walk in the park so far, with no pressure to play multiple personalities. Dr. Ellen instead is a pretty straight-ahead, level-headed character while McDermott's Carlisle mostly is called on to glower -- except when he's talking sweetly to his hospitalized, still comatose wife or their cute little daughter.
Despite all its unanswered questions,
Hostages
is appreciably easier to grasp than NBC's competing new
The Black List
, which also gets underway Monday. So for now, it seems worth seeing where this is all going. Will Dr. Ellen keep thwarting her captors in at least a halfway believable way? Is the president nefarious or something? Can Carlisle tell a knock-knock joke? Some answers, please -- sooner rather than later.
GRADE:
B-minus
Email comments or questions to:
unclebarky@verizon.net