On the eve of destruction in NBC's "comedic drama" You, Me and the Apocalypse
01/27/16 09:44 AM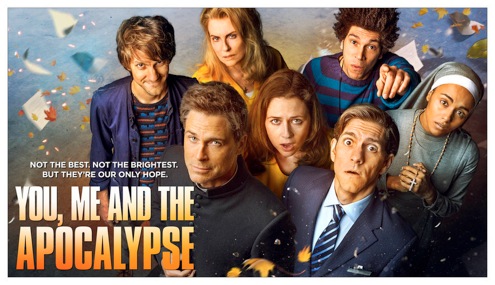 Planet Earth prepares to take a lethal hit -- sometimes for laughs.
NBC photo
Premiering:
Thursday, Jan. 28th at 7 p.m. (central) on NBC
Starring:
Rob Lowe, Jenna Fischer, Mathew Baynton, Gaia Scodellaro, Megan Mullally, Kyle Soller, Paterson Joseph, Joel Fry, Fabian McCallum, Pauline Quirke
Produced by:
Iain Hollands, Juliette Howell, Lynn Horsford, Tim Bevan, Eric Fellner, JoAnn Alfano, Cameron Roach, Lizzie Gray, Andrew Conrad, Lloyd Owen, Diana Rigg
By ED BARK
@unclebarkycom on Twitter
It's nearing the end of the world as we know it in NBC's 10-episode
You, Me and the Apocalypse
.
But mind you, the network is billing it as a "comedic drama," even though Episode 4 ends with a character being shot in the head from behind, leaving a big splatter of blood to clean up while a kidnap victim watches in horror. You'll laugh, you'll cry, you'll kiss the dead person's brains goodbye.
YMATA
, which premiered in the United Kingdom last September, is definitely different and layered with three well-known American TV stars in the far-flung ensemble cast.
Rob Lowe is Father Jude, a Vatican priest who smokes, drinks and mildly curses on occasion but is mostly very good-looking in that effortless Rob Lowe way.
Jenna Fischer (
The Office
) plays librarian Rhonda McNeil, who's wrongly imprisoned as a mastermind hacker and does an
Orange is the New Black
turn in Episode 1 before her life turns further upside down.
Megan Mullally (
Will & Grace
) is a familiar face but begs the question, "Is that really Megan Mullally?" She's virtually unrecognizable as blonde-haired white supremacist Leanne Parkins, who has a very prominent swastika tattooed on her forehead. Let's stop right there, because this is a really bad idea and the character certainly doesn't need to be a weekly poster board for Nazi atrocities to come off as a drawling, irreverent redneck. NBC's promotional art, as you can see above, does not show Leanne with swastika attached. Perhaps it can still somehow be air-brushed out of the NBC version before the Thursday, Jan. 28th premiere? It absolutely does not need to be there.
Venerable Diana Rigg of
The Avengers
and
Game of Thrones
fame isn't fully seen in the five episodes made available for review. Otherwise, the principal star of
YMATA
is Britisher Mathew Baynton in the dual role of Slough, England bank manager Jamie Winton and his evil twin brother, Ariel Conroy, mastermind of the Deus Ex Machine cyber terrorist group. Also pivotal is Gaia Scodellaro as the beautiful young Sister Celine. After a few obligatory misunderstandings, she ends up working with Father Jude, initially as a saint debunker and then as an exposer of all the false Messiahs emerging after the world learns that an eight-mile wide meteor will be leveling the planet in 34 days time.
Sister Celine gets Episode 1's most memorable line, telling Father Jude he's "just another sad little man who touches his penis too much." He takes it -- and kinda likes it.
Each hour opens with 15 various characters in a bunker as a network news anchor tells one and all "it's time to brace ourselves. To say goodbye." The opening episode then backtracks to "34 Days Earlier." By the time of Episode 5, we're down to "23 Days Earlier."
Lots happens in those 11 days, including the U.S. President (Lloyd Owen) announcing a last ditch "Operation Saviour" initiative to save the world. His principal advisors, Major General Arnold Gaines and baby-faced Apocalypse Planning Department maestro Scottie McNeil (Paterson Joseph, Kyle Soller), also know about that secret, last-ditch bunker.
The fun in all of this -- although
YMATA
also gets increasingly dramatic -- is in learning how 15 disparate people (not all of them revealed) ended up together in a highly fortified fortress with ample provisions. Or as the oft-exasperated Jamie Winton puts it, "I mean, have you seen the freaks that I'm stuck with? Worst reality show ever!"
YMATA
initially has considerable promise, some of which dissipates as its gaggle of characters make improbable escapes and decisions. Still, as end-of-the-world tales go, it's watchable, fairly unpredictable and garnished with a palpable subplot that in some ways is more intriguing than whatever the end game might be. Namely, with the world set to go up in flames, will Father Jude and Sister Celine dare get around to "doing it?"
No spoilers here, but a door-opening Episode 5 is quite nicely done on that score. It also includes Jamie telling a character he's been searching for that "God doesn't speak to anyone outside of Charlton Heston films."
In that era,
You, Me and the Apocalypse
probably would have been deemed way too sacrilegious. In this era, just get rid of that damned swastika.
GRADE:
B
Email comments or questions to:
unclebarky@verizon.net