NBC's The Philanthropist is a do-gooder that needs to get better
06/24/09 09:27 AM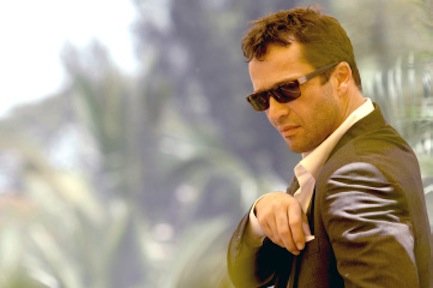 James Purefoy plays a billionaire Good Samaritan on needy NBC.
Premiering:
Wednesday, June 24th at 9 p.m. (central) on NBC
Starring:
James Purefoy, Jesse L. Martin, Neve Campbell, Lindy Booth, Michael Kenneth Williams, James Albrecht
Produced by:
Tom Fontana, Peter Horton, Barry Levinson
By ED BARK
Robbing some of his riches to give to the poor is good for a tormented billionaire playboy's soul. It leads him through the Nigerian jungle and beyond in Wednesday's premiere of
The Philanthropist
.
Drawn from various real-life exploits of big businessman Bobby Sager, this is something less than g-r-r-r-eat drama. Still, its distant travels and overall good intentions are a quantum improvement on NBC's jungle-bound
I'm A Celebrity . . . Get Me Out of Here
, which finally has its season finale as the Peacock's Wednesday night leadoff hitter.
Philanthropist
begins with Teddy Rist (James Purefoy from HBO's
Rome
) racing through remote Nigeria on a motorcycle before his transportation is shot out from under him. Viewers then learn that Rist earlier had an epiphany after saving the life of a young Nigerian boy while on a business trip. A hurricane and flash flooding prompted the impromptu rescue.
Rist relates this story to a comely, skeptical, hinterland bartender who keeps filling his shot glass with whiskey. He cavalierly offers her $1 grand to keep listening and pouring.
"I'd spent my life watching from a distance, from behind tinted glass," Rist tells her at one point. But now that's no longer an option -- at least not all of the time. Rist's cathartic turnabout also is fueled by the year-ago death of his young son and the dissolution of his marriage.
Philanthropist
is heavy on narration, flashbacks and the creature comforts to which Rist has become accustomed. While scheming to singlehandedly deliver medicine to the Nigerian boy's devastated village, Rist also stays in luxury hotels, demands a more civilized whiskey than Jim Beam and apparently participates in a fivesome after four beautiful young Nigerian women are delivered to his quarters by an influential local.
He also meets a conveniently beautiful African doctor (played by Bonnie Henna), who initially views him as a self-centered Good Samaritan who enjoys dirtying his hands a bit before returning home to tell his rich friends "how meaningful his life is compared to theirs."
Ah, but Rist of course ends up delivering the goods before the doctor treats his snake bites.
"How will I ever repay you?" she asks. Rist gives her a look before he's seen telling the bartender that they made passionate love that very night. Altruism has its privileges, but this really doesn't sit very well at all. Will our hero be bagging a native or two in every episode?
Rist's stateside corporate team includes two familiar TV faces. Jesse L. Martin, who recently quit
Law & Order
, plays business partner Philip Maidstone. And
Party of Five
alum Neve Campbell is both Philip's wife and head of the charitable foundation set up by the two men.
Purefoy and company all turn in capable performances in a series that ends up being only minimally compelling on night one. Its spirit is willing, but the execution is a bit weak. Shedding a good deal of the narration/flashback motif might help some. But in the end, maybe Rist is just too much of a wolf in chic clothing. A do-gooder without the right stuff.
GRADE:
C+