Come together: Letterman and Leno play act with Oprah as buffer
02/08/10 09:36 AM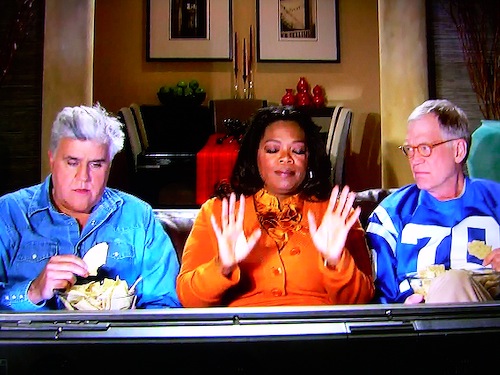 Chips in their mouths and on their shoulders. Photo: Ed Bark
By ED BARK
The surprise spot of Super Bowl XLIV came at the 9:34 mark of the second quarter, when Indiana native David Letterman in a Colts jersey whined, "This is the worst Super bowl party ever."
"Now, Dave, be nice," Oprah Winfrey admonished him before the camera moved to their surprise guest -- Jay Leno.
"Oh, he's just sayin' that because I'm here," Leno groused before Letterman mocked his words with a high-pitched Leno impression.
Winfrey sighed and put her hands up. End of genius spot, a sequel to a
2007 Super Bowl commercial
in which Winfrey wore a Chicago Bears jersey while they pretended to be lovers. The two earlier had settled their differences after Letterman pointedly baited her to appear on his show.
Letterman likewise has been ridiculing Leno and defending Conan O'Brien during NBC's late night train wreck. Leno eventually fired back with a memorably blunt joke on how to get Letterman to ignore you. In short, "Marry him."
Winfrey took Leno's side -- at least in the NBC mess -- during a recent full-program interview on
The Oprah Winfrey Show
. So this was a perfect way for her to play referee, with Letterman and Leno at least appearing in close proximity to one another for the first time in more than a decade.
CBS says the 15-second spot, a promo for Letterman's show, was taped last week at Letterman's home base, The Ed Sullivan Theater. It will air only once, the network said.
Leno is scheduled to resume his competition with Letterman on March 1st, when NBC re-gifts him with
The Tonight Show
. Here's the spot: