Murphy exits stage left, dropping out as Oscar host after pal Brett Ratner leaves in wake of gay slur
11/09/11 03:31 PM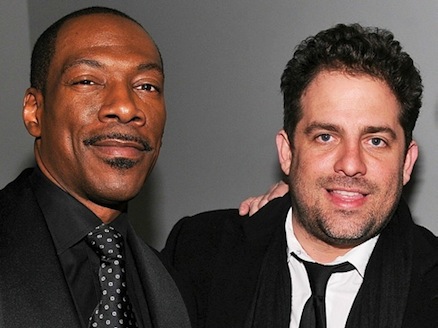 In happier times: Eddie Murphy and Brett Ratner. Getty Images
By ED BARK
Life its ownself continues to be far, far stranger than fiction.
The rapid-fire Kim Kardashian divorce. The Herman Cain and Joe Paterno sex scandals. And now Eddie Murphy quitting as Oscar host after his pal Brett Ratner got bounced.
Murphy dropped out Wednesday after Ratner, the ceremony's co-producer, exited Tuesday. Ratner's ouster came in connection with his gay slur at a recent public screening for the movie
Tower Heist
, which he directed and in which Murphy co-stars.
"Rehearsal is for fags," Ratner had blurted in answer to a question. He later apologized, but the Academy of Motion Picture Arts and Sciences understandably decided to drop him anyway.
Murphy, newly on the cover of
Rolling Stone
magazine in connection with his first extensive interview in years, had been rehabbing his image in preparation for the high-profile Oscar gig. Now the Academy will have to scramble a bit, perhaps reaching out to either Billy Crystal or Jerry Seinfeld. Both reportedly lobbied to be the next Oscar host, but Ratner wanted his guy. Namely Murphy.
Will either Crystal or Seinfeld be willing to sign on under these circumstances, though? Probably so. Although if not, there's always the likes of Jay Leno, the consummate go-with-the-flow company man.
Whoopi Goldberg also comes to mind. Like Crystal, she's hosted several times previously. Or maybe Oscar goes for another first-time choice. Will Ferrell? Oprah Winfrey? Foghorn Leghorn? Herman Cain?