HBO's Westworld returns on a grander scale -- mind games included
04/19/18 09:36 AM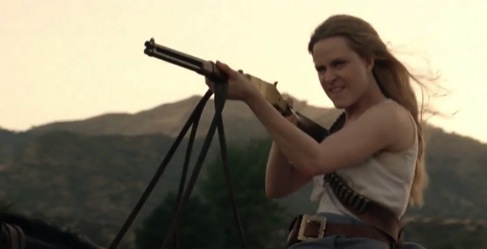 This time she's for real. Evan Rachel Wood in Westworld. HBO photo
By ED BARK
@unclebarkycom on Twitter
It's again easy to get lost in HBO's
Westworld
, both from a total absorption standpoint and in trying to deduce what possibly, or impossibly, is going on.
Season 2 of television's reigning most violent and perplexing series returns on
Sunday, April 22nd at 8 p.m. (central)
with 10 more episodes of twists, turns and assorted Gordian knots. Season One climaxed quite a while back -- on Dec. 4, 2016 -- so even devoted fans are advised to watch that finale anew before diving back in.
The second season's first five episodes have been made available for review under strict guidelines about "spoilers" or even revealing the identity of the actor who guests as "El Lazo" in Episode 2. But many of the head-swirling goings-on in
Westworld
are almost impossible to translate into print with anything approaching lucidity. It's like trying to divine the thought processes of a certain guy who hadn't been elected President yet when HBO's
Westworld
and its sprawling, futuristic park first opened on a weekly basis.
As in Season One, the series jolts into a higher gear whenever Ed Harris' "The Main In Black" strides or rides into view. As revealed last season, he's also the weathered, grown-old William (Jimmi Simpson), a "guest" who first visited the Westworld park decades ago. A wide-eyed lamb at the time, he eventually began to greatly enjoy the slaughterhouse and now is hell-bent to uncover whatever its central mystery is.
Even more transformed is Dorothy Abernathy (Evan Rachel Wood), the park's oldest programmed "host." At the close of Season One, she at last had uncovered a mind of her own and memories of all the degradations she suffered. Dorothy's first act of revenge was a point-blank execution of park co-founder Robert Ford (Anthony Hopkins) during a posh reception at which he planned to reveal his final epic "story." An army of transformed hosts then advanced on the multitude of human guests while a wounded William smiled with satisfaction at the game finally being "real."
Season Two also is built largely on the actions and reactions of two other pivotal holdover characters.
Host Maeve Millay (Thandie Newton), madam of Westworld's Sweetwater hotel, likewise has seemingly uncovered traumatic memories while unlocking a mind of her own. At the end of Season One, she engineered a daring escape from her human captors, only to return in the concluding minutes after being sucked back in by thoughts of her long-lost daughter. Finding her is now Maeve's consummate quest. She's aided by two fellow "hosts" with considerable fighting skills and the reluctant Lee Sizemore (Simon Quarterman), a human who knows the lay of the land as Westworld's former "narrative director."
The fourth wheel is Bernard Lowe (Jeffrey Wright), who began the series as the seemingly human head perfecter of the hosts' software. He had a particular interest in Dolores' well-being before learning he in fact was just like her. That's because Ford had created him in the mold of his deceased partner Arnold, who belatedly had misgivings about the whole concept of Westworld and tried to stop it from opening. Yeah, it's complicated.
In Season Two, Bernard/Arnold reels from one situation to another, never quite knowing whether he's in the past or present. Early in Episode 1, though, he sets the table for the overall stakes at hand. "You frighten me sometimes, Dolores," he tells her. "You're growing, learning so quickly. I'm frightened of what you might become, the path you might take."
The path for now seems to be strictly one of revenge. "I've evolved into something new," Dolores tells a quartet of humans. "And I have one last role to play." Pause for dramatic effect. "Myself." Dolores and her posse then ride off, leaving four humans to die by hanging after they can no longer balance themselves atop the tombstones on which they've been placed. At the same time, orders from somewhere on high are to kill all the remaining hosts. It's a veritable Civil War.
Westworld
is well-suited to a newborn killing machine such as Dolores. The series sets a television record unlikely to ever be broken when it comes to strewn corpses in large quantities. And the deaths keep piling up throughout the first five episodes. As with the Starz network's old
Spartacus
series, it gets to be a challenge finding new ways to end lives. Episode 5, the weakest of the bunch, even resorts to hard-core Samurai violence as a change of pace. Because, after all, "When a Shogun asks for meat, he does not wish to hear the story of the cow."
One of Dolores' partners in arms is host Teddy Flood (James Marsden), who still believes, in so many words, that "there's a place for us" -- and a peaceable one at that. Previously programmed to shoot up an entire town, Teddy is becoming averse to mayhem. Let's just say this doesn't sit particularly well with the love of his life, so to speak.
The new season of
Westworld
is also, at times, an origin story. And in that context, Episode 4, subtitled "The Riddle of the Sphinx," is built around the unraveling of a ruthless billionaire (his identity won't be revealed) who finally is told in no uncertain terms, "It took me a long time to learn this. But some people are better off dead."
It's a riveting, out-of-body hour that might remind some viewers of the Netflix anthology series
Black Mirror
, where technological "advances" invariably are anything but. Episode 4 also ends with a revelation that's actually fairly easy to comprehend. But it also introduces yet another BIG QUESTION to be answered whenever.
Wood's Dolores is not in Episode 4, which is so good that she's not really missed. But as her once passive host character comes alive, so does Wood's performance. Newton's Maeve also is reborn, giving
Westworld
a double shot of women's empowerment. But Harris' "Man in Black" is still the one to watch, taking full command of every scene he's in. Meanwhile, Wright figuratively stumbles about as a host who didn't know he was a host -- and now doesn't seem to know which way is up. Perhaps a fresh injection of essential "cortical fluid" will help to somewhat remedy that.
Throughout these first five episodes,
Westworld
continues to have a mind-bending mind of its own, sometimes to the point of being close to nonsensical. It's also a non-stop killing field, and that gets to be off-putting after a while. But
Westworld
also remains picturesque, challenging and undeniably distinct. It will be judged in the end on whether it all falls apart -- or somehow extricates itself and emerges as a comprehensible whole.
It's still way too early to know if we're being diddled on a grander scale than
Lost
or
The Leftovers
ever contemplated. The world of
Westworld
currently is all over the place, sometimes making the Westeros of HBO's
Game of Thrones
seem like a small burg. Both series are bathed in blood and retribution. But with
Game of Thrones,
all eyes are on a concrete prize, namely the Iron Throne. In
Westworld
, the final objective is not nearly so clear.
"Do you know where you are?" Dolores asks one of her prey in Episode 1 of the new season. "You're in a dream. You're in my dream."
You want clarity? Dream on.
GRADE:
B+
Email comments or questions to:
unclebarky@verizon.net