Odor in the court: NBC's Bad Judge has a vigorous star who's not yet well-served
10/01/14 08:37 AM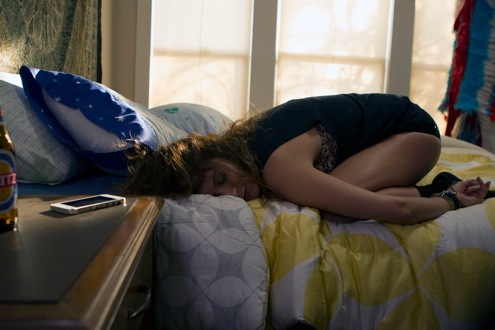 Many days begin badly for the star of Bad Judge. NBC photo
Premiering:
Thursday, Oct. 2nd at 8 p.m. (central) on NBC
Starring:
Kate Walsh, Tone Bell, Miguel Sandoval, John Ducey, Ryan Hansen
Produced by:
Adam McKay, Will Ferrell, Anne Heche, Chad Kultgen, Jill Sobel Messick, Kevin Messick, Betsy Thomas, Kate Walsh
By ED BARK
@unclebarkycom on Twitter
The star of NBC's
Bad Judge
no longer plays the drums in a two-girl band called Ladycock. This deprives viewers of their hard rock performance of
The Mary Tyler Moore Show
theme song.
Nor does the judge take in a cute, bantering pre-teen boy at the end of the premiere episode. She had sentenced his drug-dealing parents to some hard time and he had nowhere else to go after being kicked out of a group home.
These subtractions, from the original pilot to Thursday's revised on-air version, are to the detriment of a comedy that at least still has Kate Walsh in energetic mode as hellcat Rebecca Wright. Walsh was terrific as a recurring golddigger/temptress in FX's
Fargo
. So it's not really her fault that
Bad Judge
still hasn't kicked in after the first two episodes made available for review.
The show also has made a casting change, dumping the very hairy Mather Zickel as a psychiatrist named Gary and replacing him with the much prettier Ryan Hansen. In both cases, Gary and a half-stripped Rebecca are caught making out on her desk by a bailiff named Tedward (regular cast member Tone Bell). Rebecca's band mate/gal pal Jenny (Arden Myrin) has been written out.
Bad Judge
's creative revisions represent the combined wisdom of not one, not two, but eight executive producers, including Will Ferrell and Adam McKay (co-architects of the
Anchorman
movies), Anne Heche and Walsh herself. NBC "suits" probably also weighed in. It's too many cooks, and the food still needs to be sent back to the kitchen.
Let's return to the engaging relationship between Rebecca and pint-sized Bobby (Theodore Barnes), an African-American kid who's a match for her quick mouth. They still have several scenes together in the revised first episode. But then someone had the not at all bright idea to write the kid out after Episode 1 instead of carrying him over to future episodes as Rebecca's new boarder. "Do you have premium cable?" he asks in the original pilot. She doesn't. And now that line is missing, too.
The ever-present Chris Parnell still guest-stars as an accused bigamist who shows up in hung-over Kate's courtroom after she first takes a pregnancy test following another night of heavy drinking and whatever. In Episode 2, a vacuous young pop star named Brianna is the principal defendant. Rebecca is dubbed the "Muffin Top Judge" after she flips twin fingers at the paparazzi swarm. This vexes her no end.
Miguel Sandoval also drops in on occasion as boss judge Hernandez, who frowns upon Rebecca's behavior but of course is powerless to control it. The self-described "workaholic freak show" isn't about to let anyone curb her impulses.
This is a comedy that could get better but so far has fallen a few notches from original pilot to revised one to Episode 2, in which Rebecca beds an Adonis-like firefighter with limited brain power. Walsh throws herself into the part but
Bad Judge
so far is falling apart around her. It's not terrible, and maybe not even a misdemeanor offense. But it's still guilty of not being all that good.
GRADE:
C
Email comments or questions to:
unclebarky@verizon.net