"Reality" check: NBC's top-rated Sunday Night Football flattened all singers/dancers
09/04/12 08:08 AM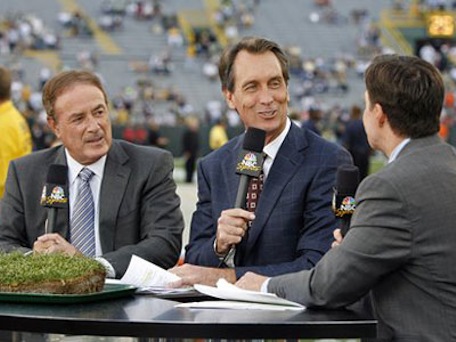 It's good to be king, and Sunday Night Football likely will still reign.
NBC photo
By ED BARK
@unclebarkycom
Prime-time's most popular "reality" series returns this week, and it has nothing to do with singing, dancing or Howard Stern.
Save for the cheerleading and Faith Hill's opening come-on.
NBC's
Sunday Night Football
averaged a top of the charts 20.74 million viewers last season, beating runner-up
American Idol
's Wednesday night performance editions (19.81 million) by nearly one million viewers, according to Nielsen Media Research.
This entitled
SNF
's two lead dogs, Al Michaels and Cris Collinsworth, to flex a little muscle during a teleconference last week with TV writers.
"If the Cowboys play the Giants in a parking lot in March, it's still going to be tremendous," Michaels said. "Football is king right now. The NFL is hotter than any sport at any time in the history of this country."
The Dallas Cowboys in fact will play the New York Giants in a stadium Wednesday night, moving NBC's traditional weeknight kickoff ahead one day so as not to overwhelm President Obama's climactic Thursday night acceptance speech at the Democratic National Convention. Former president Bill Clinton instead will have to square off against Cowboys-Giants. He's still got pulling power, but no amount of hype or commentator blather can save him from being crushed by football. Not only in D-FW but around the country.
"You can't give people too much of it," said Collinsworth, who definitely wasn't referring to political conventions. "Look at all the shows. Look at all the websites. Look at all the radio shows. How much more can people take? As much as we want to give them, they want more and more and more."
Sunday Night Football
is eager to pile it on with its usual series of of marquee games. After Wednesday's 7:30 p.m. (central) Cowoys-Giants game (preceded by a 6:30 p.m. pre-game show),
SNF
begins its regular Sunday night schedule with Peyton Manning's much-anticipated return to the NFL as a Denver Broncos QB. The opponent is the Pittsburgh Steelers.
The Cowboys again have the maximum three games on
SNF
with an option for another "flex" game if they're still playing meaningful football in December. NBC keeps loading up on the Cowboys because no team other than perhaps the New York Yankees has an equivalent love-hate relationship with the nation, Michaels told unclebarky.com at this time last year.
"And that's a great combination for television," he said, "because you want to have some sort of an emotional response to the team that's on the air. And they (the Cowboys) have been number one for us for a lot of years in that regard."
Last season, the 6-10 Cowboys had three games on
SNF
while the 10-6 Tampa Bay Buccaneers had no scheduled appearances. Only one other losing team, the Minnesota Vikings, had even one game on
SNF
in 2011.
This time around, Dallas is coming off an 8-8 season that again left the team out of the playoffs. They're the only 8-8 team with three scheduled appearances on
SNF
, but have a little more company in 2012. Four other 8-8 teams -- the Broncos, Philadelphia Eagles, New York Jets and San Diego Chargers -- are getting two
SNF
slots. The 8-8 Bears have a single game scheduled.
Chalk this up to "parity." The NFL had 12 teams with winning records last season and eight that went 8-8.
The Cowboys likely could go 1-15 and still get at least two games on
SNF
. Their ratings consistently top the heap, with last January's regular season-ending Cowboys loss to the Giants ranking as the most-watched
SNF
game ever with 27.6 million viewers. Of
SNF
's 10 highest-rated games, six have involved the Cowboys.
Opposite the Democratic convention on ABC, CBS and a variety of other cable and broadcast networks, Wednesday night's Cowboys-Giants face-off has a fighting chance to beat the all-time
SNF
viewing record. Maybe Clinton should give score updates during his speech?
Michaels gets the last words, which are no brag, just fact.
"Our goal the last couple of years . . . was to see if
Sunday Night Football
could be the No. 1 series on television," he said during the teleconference. "Which it did it. And we're thrilled about that, proud of it. It's a new goal this year to retain that top spot, and we think we can do it. Because the NFL is king."