HBO's True Blood drinks to a third season while keeping Bill and Sookie sip-arated
06/11/10 03:14 PM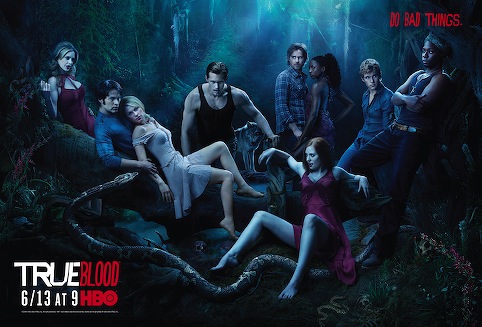 By ED BARK
When in doubt, add werewolves.
They're quickly elemental to the third season of HBO's
True Blood
, launching on
Sunday, June 13th at 8 p.m. (central)
with events immediately following the kidnapping of angst-ridden vampire Bill Compton (Stephen Moyer).
In the previous season's cliffhanger, the 173-year-old bloodsucker had just proposed marriage to the very human but specially gifted Sookie Stackhouse (Anna Paquin). But she needed "a minute" to think it over. And when she returned to blurt yes, her Bill had gone missing. Which sucks for both of them.
The first three episodes of Season 3 unfold in what sometimes is a slow crawl. There won't be any spoilers here. But Bill and Sookie seem destined to do a lot of scenes without each other, which will still hold true by the end of June 27th's "Scratches" episode.
In real life, Compton and Paquin have been engaged for nine months. But no date is set, and Paquin recently announced that she's bisexual. That may or may not make Compton a very happy man. Consider the possibilities.
In
True Blood
's life stories, there are far worse complications for both of them. Bill is still being bedeviled by vampy Lorena Krasiki (Mariana Klaveno), a fellow vampire who very much wants him for herself and continues to sew serious doubts about any relationship with a human.
Sookie, meanwhile, is eventually matched up with a hunky escort werewolf named Alcide (Joe Manganiello), who supposedly will help her find Bill. Their matchmaker is the sinister but still occasionally soulful Eric Northman (Alexander Skargard), who easily remains the most interesting vampire in
True Blood
's sea of them.
Other familiar characters also return. Shape-shifting restaurant owner Sam Merlotte (Sam Trammell) goes on a road trip to seek out his real parents. Sookie's brother, Jason (Ryan Kwanten), is haunted by the climactic events of last season, to the point where he sees bullet holes in various foreheads. Tara Thornton (Rutina Wesley), Sookie's vibrant but always troubled best friend, is fated to hook up with a scheming and magnetic vampire named Franklin Mott (James Frain). His prowess in the sack is enough to make her eyelids flap like hummingbird wings.
Another important new character, Russell Edgington (Denis O'Hare), is the dandy-ish vampire king of Mississippi. He has plans for Bill, who for now still bows to his home state of Louisiana's willful Queen Sophie-Anne (Evan Rachel Wood). But it's tough for any vampire to resist a sumptuous meal that includes "warm blood bisque infused with rose petals."
These first three episodes of the new season can be a bit sluggish at times, even though their flashes of gruesomeness can still make jaws drop or stomachs churn. Several nightmarish dream sequences heighten the overall developments before Episode 3 ends with a literally twisted love scene.
Like its two predecessors, Season 3 will have 12 episodes and multiple storylines fated to mesh and collide. Bill and Sookie of course will end up being reunited because fans wouldn't have it any other way. But under what circumstances? In the early going,
True Blood
is in the mood to dally a bit, which can rob a show of its zip. The new werewolf characters are trying hard, though, adding even more bite to this still bloody well done melodrama.
GRADE:
B+