OWN's Love Is __ serves up romance from a distance and with spice
06/19/18 01:31 PM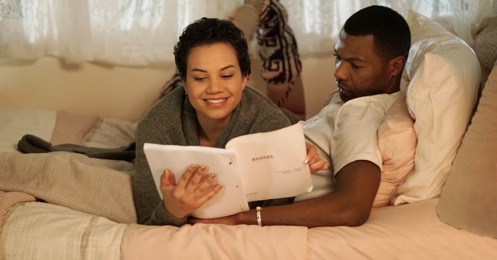 Michele Weaver, Will Catlett in early stages of Love Is __. OWN photo
Premiering:
Tuesday, June 19th at 9 p.m. (central) on OWN
Starring:
Michele Weaver, Will Catlett, Wendy Davis, Clarke Peters, Idara Victor, Tyrone Brown, Yootha Wong-Loi-Sing, Kadeem Hardison, Vanessa Bell Calloway, Tim Reid, Loretta Devine
Produced by:
Mara Brock Akil, Salim Akil
By ED BARK
@unclebarkycom on Twitter
Spanning 30 years and drawn from the real-life romance of the principal executive producers,
Love Is __
gives Oprah Winfrey's OWN network what looks to be a durable drama with a sweet/spicy sauce.
At first, though, it wasn't earmarked for OWN. Nor was it a one-hour drama. ABC initially bit on a pilot for a laugh track-driven sitcom titled
Documenting Love
. When that didn't fly, Mara Brock Akil and her husband, Salim Akil, retooled and retitled their series before OWN committed to it.
In real life, Mara and Salim got married in 1998 while she wrote for the UPN sitcom
Moesha
and he was struggling to get established in Hollywood. For the purposes of
Love Is __
, Nuri (Michele Weaver) is on the writing staff of the comedy "Marvin" while Yasir (Will Catlett) is newly in town and living with Ruby (Yootha Wong-Loi-Sing), who's grown weary of his unemployment. (The sitcom on
Love Is __
is modeled after two much more male-centric shows from that period, Fox's
Martin
and The WB's
The Jamie Foxx Show
.)
Viewers also get the perspectives of 2027 versions of Nuri and Yasir (Wendy Davis, Clarke Peters), who drop in periodically for talk-to-the-camera recollections of the way they were. "He was a meteor that hit my life I didn't see coming," Nuri says for openers. "He blew up my world and my plans . . . Made me take off this mask I'd been wearing."
The younger Nuri is a career-wedded new homeowner who juggles men without making commitments or risking pregnancy. "All dry humps and hand jobs happen at least three days apart," she tells "Marvin" gal pal and co-writer Angela (Idara Victor). From her 2027 perspective, Nuri says, "Work was the most loyal man I knew."
Meanwhile, Yasir has bought tickets he can't really afford to a now sold-out Wynton Marsalis concert. Ruby objects, telling him to cash hers in. So he asks Nuri instead after a chance meeting during which he gives her a ticket. Her later multiple attempts to return it are waylaid by Yasir's sensitivity and conversational skills. No man has ever talked to her quite like this. By the end of Episode 2, the match is lit. But hours three and four bring trials, tribulations and a bit of a bog-down in both pace and storytelling.
The other principal supporting characters are Yasir's best friend and baby daddy Sean (Tyrone Brown) and demanding head "Marvin" writer Norman (Kadeem Hardison). The 2027 versions of Norman and Angela are sporadically played by Tim Reid and Vanessa Bell Calloway.
Weaver shines as the young Nuri, whether dissing with her girlfriend, fending off her controlling mom, mooning over Yasir or wondering if he's for real. Catlett brings both confidence and a quiet desperation to the role of Yasir, who seeks and sometimes finds solace in his Muslim faith. But the series hits a speed bump when Yasir tends to Ruby (following a cosmetic surgical procedure gone awry) and forgets all about his scheduled meeting with Yuri, who frantically tries to find him -- and then doesn't like what she sees.
Season One of
Love Is __
will run for 10 episodes. By the end of hour four, the Nuri-Yasir relationship is on the brink, but obviously won't stay that way. It remains to be seen how much interest and intrigue can be generated with the formative stages of a 30-year story that viewers already know will end happily ever after.
Even so, we still seldom see African-American lives depicted via a romantic drama series. The producers of
Love Is __
clearly know this terrain better than most. And they hope to make it accessible to audiences of all colors without losing the flavors that make it unique.
GRADE:
B
Email comments or questions to:
unclebarky@verizon.net