Charitably put, Lifetime's The Week the Women Went is "reality" in all its worst forms
06/05/12 03:18 PM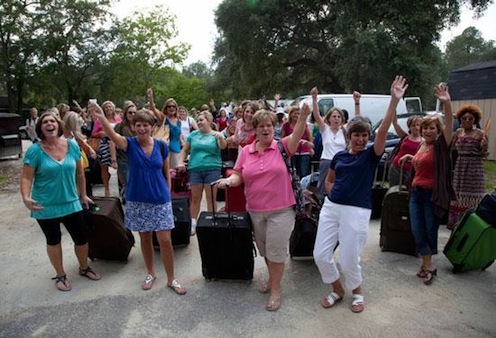 The adult women of Yemassee, S.C. happily blow town. Lifetime photo
Premiering:
Wednesday, June 6th at 9 p.m. (central) on Lifetime
Starring:
The men, women and kids of Yemassee, S.C.
Produced by:
Jon Kroll, Elli Hakami, Jane Tranter
By ED BARK
@unclebarkycom
The transparent holocaust imagery can't have been entirely lost on Lifetime and the producers of this new "daring social experiment" -- namely
The Week the Women Went
.
Really, what were they thinking in having the real-life adult women of Yemassee, S.C. walk en masse toward a train taking them to an undisclosed destination. On a foreboding stormy night no less. And with a little girl tearfully asking "Why does she have to leave?" as families are separated while the train pulls out of town.
Wasn't there a better means of illustrating this mass evacuation during a series adapted from a same-named BBC series? It's scheduled to afflict American audiences on the next four Wednesdays, with a two-hour finale set for June 27th.
The women end up at Florida's Omni Resort on Amelia Island Plantation, where they'll spend a week. Back home, their menfolk are left to fend for themselves in the company of possibly the brattiest kids ever collected under one "reality" series roof.
Yemassee, population 1,027 as of the 2010 census, may not like what it sees of itself. Then again, way too many people will do whatever it takes to get on a teevee screen near you. Particularly an onerous 18-year-old dimwit named Jerome, whose most refined moment comes when he tells a pal, "Let's go find us some bitches."
Before providing a few further details, let's also note that a preview of future episodes has the left-behind white men of Yemassee marching menacingly toward what's described as a secretive African village where un-American things might be happening. What the hell, Lifetime? However this all ends, the set-ups are repulsive.
In the spirit of TLC's newly announced
Here Comes Honey Boo Boo
(starring the gag-inducing 6-year-old "breakout star" of
Toddlers & Tiaras
), the producers of
Week the Women Went
have given viewers two monstrous little girls.
Bailey's a screaming, tantrum-throwing banshee whose dad laments," She's a drama queen. And they ain't no medicine for that."
Elie, already way too chubby, demands coffee for breakfast and is of course served by her dumbass dad. "Just don't mess with my coffee," she warns.
It gets worse. Elie's dad has been informed that he has to throw together a prepubescent "full-blown beauty pageant" by the weekend, with both his daughter and Bailey among the contestants.
Back to the teens from hell sub-category, with 24-year-old Matt hoping to impress his 31-year-old girlfriend by winning over her thoroughly obnoxious 13- and 15-year-old daughters and their little brother.
"I love my girlfriend, but her kids can definitely be brats," Matt deduces. Run for the hills while you still have a fighting chance!
The only halfway decent kid in town appears to be a 14-year-old woman preacher's daughter who's left in charge of mama's other sideline, a catering business. But even she's getting pretty bossy by the end of Wednesday's 90-minute introductory episode.
A 21-year-old manchild named Justin is also in the mix. He works for the fire department but still lives at home, where his protective mother still does everything for him while seeming determined to turn him into a modern-day Norman Bates.
But Justin is intendin' to marry his sweetheart, and already has bought an engagement ring. This doesn't sit at all well with momma ("I'm just all messed up now"), or daddy for that matter.
"You don't have a penny and you don't have a window to throw it out of either," he says encouragingly.
Meanwhile, back at the Amelia Island Plantation, the women are learning how to use sex toys at a party thrown for Justin's sudden fiancee. Some of the toys apparently are so daring they're digitized. But you can still learn a thing or two, such as "the average man masturbates one to three times a day."
Oh lordy. And pass the cheese grits that little Bailey likes so much.
Week the Women Went
, with Bailey's dead proclaiming, "My nerves is shot," makes even the Hatfields and McCoys seem like members of the Royal Family. And it's unforgivably clueless as well with that central image of women marching toward a mystery train while a big storm gathers.
"If the men think this storm is bad, just wait 'til we're all gone," the preacher woman declares.
Astonishing. Funeral services for Western Civ will be held in front of Lifetime's corporate offices.
GRADE:
F