New season upset: CBS adds the most fall shows
05/18/16 08:30 AM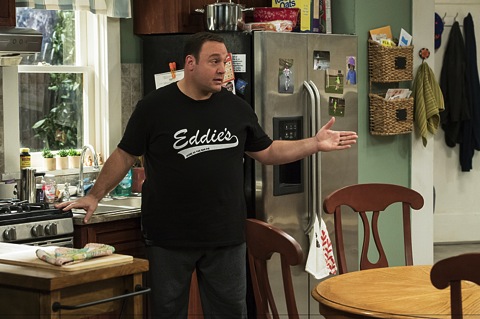 Kevin James will ham it up in Kevin Can Wait. CBS photo
By ED BARK
@unclebarkycom on Twitter
CBS traditionally has launched fewer new fall series than its competitors, in large part because of its year-to-year success stories.
That changed Wednesday, even though the Eye Network again ranked a solid No. 1 in total viewers (for the 13th time in 14 seasons) and edged NBC for the top spot among advertiser-prized 18-to-49-year-olds with a considerable lift from Super Bowl 50.
Six new series are coming this fall, one more than ABC announced and twice as many as either NBC or Fox will bring into battle. This also marks a difference in strategy, with NBC and Fox in particular stockpiling a wealth of midseason series while scrimping on the fall in hopes of someday becoming rerun-free. On Monday, Fox touted a 2016-17 season with 90 percent original programming.
CBS also is banking more heavily on old-school star power rather than heavy doses of unknowns. Kevin James (
King of Queens
) and Matt LeBlanc (
Friends
) are returning to front freshman sitcoms, as is former
Community
star Joel McHale. The network also has a fall reboot of
MacGyver
. And its two midseason dramas star Bill Paxton and Katherine Heigl.
The freshman series
Life In Pieces, Code Black
and
Criminal Minds: Beyond Borders
will return for sophomore seasons. But CBS has a heavier than usual casualty list, topped by the end of lengthy runs for both
The Good Wife
and
Mike & Molly
. Also cancelled are
CSI: Cyber, Limitless, Rush Hour, Person of Interest
and
Angel From Hell
.
Supergirl
likewise is leaving CBS, but will fly on its sister network, The CW.
CBS also is shifting
NCIS: Los Angeles
from Mondays to Sundays and bridging its Tuesday night pairing of
NCIS
and
NCIS: New Orleans
with the new drama
Bull
.
The Amazing Race, Undercover Boss
and
Criminal Minds: Beyond Borders
all will be back in midseason.
Here are CBS' six new fall series:
Kevin Can Wait
(comedy) -- James plays a newly retired married cop with three kids who looks forward to laying and playing around, "only to discover he faces tougher challenges at home than he ever did on the streets." Expects lots of bellowing.
Man With a Plan
(comedy) -- LeBlanc likewise plays a dad with three "messy kids." Cutting back from his contractor business while his wife rejoins the workforce, he discovers that life as a stay-at-home dad is a living hell and the couple's "little angels are maniacs."
The Great Indoors
(comedy) -- McHale stars as a well-traveled adventure writer whose magazine suddenly goes web-only. This leaves him to supervise and babysit an infantile group of young online "journalists" (quote marks courtesy of CBS) with next to no knowledge of the outside world.
Bull
(drama) -- This one is drawn from the "early career" of Dr. Phil McGraw. Except that the lead character is named Jason Bull (Michael Weatherly direct from
NCIS
). CBS describes him thusly: "Brilliant, brash and charming, Dr. Bull is the ultimate puppet master as he combines psychology, human intuition and high tech data to learn what makes jurors, attorneys, witnesses and the accused tick." Executive producers include McGraw (billed as "Dr. Phillip C. McGraw" in publicity materials) and, for some reason, Steven Spielberg.
MacGyver
(drama) -- The venerable Mr. Fix-It returns to create a "clandestine organization within the U.S. government." He still excels, of course, at "unconventional problem-solving" via his fount of "vast scientific knowledge." Lucas Till stars, with
CSI: Crime Scene Investigation
veteran George Eads as a maverick ex-CIA agent.
Pure Genius
(drama) -- It's centered on a state-of-the-art Silicon Valley hospital with an "ultra-modern approach to medicine." The crack team of docs is funded by "billionaire genius" James Bell (Augustus Prew), who persuades another maverick (see
MacGyver
) to be his Chief of Staff. Dermot Mulroney plays that role in a series that also includes a "maddeningly literal" doctor named Talaikha Channarayapatra (Reshma Shetty). Mr. Mxyzptlk so far is not a member of the team.
Here is CBS' night-by-night new fall lineup:
Monday
The Big Bang Theory and Kevin Can Wait (until
Thursday Night Football
ends in late October)
Then it's:
Kevin Can Wait and Man With a Plan, plus the season-starting lineup of:
2 Broke Girls
The Odd Couple
Scorpion
Tuesday
NCIS
Bull
NCIS: New Orleans
Wednesday
Survivor
Criminal Minds
Code Black
Thursday
Thursday Night Football
Then, on Oct. 27, it's:
The Big Bang Theory
The Great Indoors
Mom
Life In Pieces
Pure Genius
Friday
MacGyver
Hawaii Five-0
Blue Bloods
Saturday
Crimetime Saturday
Crimetime Saturday
48 Hours
Sunday
60 Minutes
NCIS: Los Angeles
Madam Secretary
Elementary
Here are CBS' two new midseason series:
Training Day
(drama) -- It begins 15 years after the feature film ended, with Bill Paxton playing "morally ambiguous" detective Frank Rourke and Justin Cornwell co-starring as the "unvarnished" Kyle Craig, who poses as Frank's trainee in order to spy on him.
Doubt
(drama) -- Katherine Heigl rebounds from
Grey's Anatomy
and NBC's failed
State of Affairs
to star as attorney Sadie Ellis. She's fated to fall in love with client Billy Brennan (Steven Pasquale), a pediatric surgeon accused of murdering his girlfriend 24 years ago. Dule Hill (
Psych
) and Laverne Cox (
Orange Is the New Black
are among the co-stars. And Elliott Gould pitches in as a "revered legal lion."
Email comments or questions to:
unclebarky@verizon.net