No time like the present for CW's The Tomorrow People
10/08/13 03:03 PM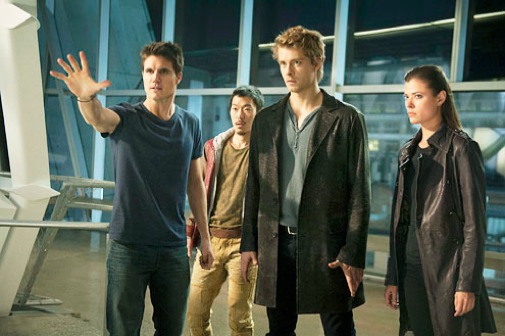 Telepathy, telekinesis, teleporting: they've got 'em, we don't. CW photo
Premiering:
Wednesday, Oct. 9th at 8 p.m. (central) on The CW
Starring:
Robbie Amell, Luke Mitchell, Peyton List, Aaron Yoo, Mark Pellegrino, Madeleine Mantock
Produced by:
Greg Berlanti, Julie Plec, Phil Klemmer, Danny Cannon
By ED BARK
@unclebarkycom on Twitter
Want mutants? The CW's got 'em, too, with
The Tomorrow People
.
Prime-time's tiniest broadcast network can't come close to matching the promotional firepower that both ABC and Marvel put behind their far more expensive
Marvel's Agents of S.H.I.E.L.D.
But that series slid significantly in the ratings from its mega-hyped premiere episode. And there just might be more "there" there with
Tomorrow People
, which will follow the Season 2 premiere of
Arrow
Wednesday.
Of course I may just need a long nap after earlier deducing that CBS'
Hostages
seemed better built for long-term staying power than NBC's competing
The Blacklist
. The opposite has been true so far, with
Blacklist
recently getting a full season order while
Hostages
looks ready to be carried out on a stretcher.
Anyway,
Tomorrow People
is in the same basic mold as an earlier same-named series that premiered in 1993 as Nickelodeon's first original miniseries and did well enough to become a weekly drama that survived for a single season.
Robbie Amell stars in the newbie as the very troubled Stephen Jameson, a high schooler who's been hearing voices and teleporting himself without knowing why. Your friendly neighborhood "Tomorrow People," hiding out in an abandoned subway station, see Stephen as a possible savior whose father also had strange powers beyond mere mortals. But will he respond to their recruiting? Or will the seemingly very evil Dr. Jedikiah Price (Mark Pellegrino), head of "Ultra," convince Stephen that he's really his well-meaning "Uncle Jed?"
Stephen is a hunk, of course. Which means he also poses a threat to a high-strung Tomorrow dude named John (Luke Mitchell). He and boss lady Cara (Peyton List) have a thing going on beyond their efforts to stop Ultra from hunting them all down and making their "species" extinct. But Stephen is the new flavor. And Cara's efforts to reel him in are paramount because his powers look to be even greater than theirs. Even if she gets off to a less than sensational start sales tool-wise by telling him, "We're called Tomorrow People. And we didn't choose the name. I swear."
The series also has a third Tomorrow People sidekick -- Aaron Yoo as Russell -- and features Madeleine Mantock as Stephen's bewildered high school friend, Astrid, who "stuck by you and your whole year of crazy."
Sarah Clarke, best known as duplicitous Nina Myers from
24
, plays Stephen's emotionally/physically exhausted mother, Maria, while Jacob Kogan is cast as her younger son, Luca. But neither is listed as a series regular, so maybe they'll flit in and out or just disappear altogether.
Tomorrow People
has a few bang-zoom fight scenes and lots of whooshing about before Stephen is left to choose sides. Is Ultra really a force for good aimed at eradicating nutty paranormals? Or is it a sinister, diabolical, bad-nasty, really rotten government-empowered exterminator of mutants with one or more of these "Three T" powers -- teleporting, telepathy, telekinesis. Not to ruin anything. But one obviously can't ever believe the U.S. government is capable of doing anything right -- let alone for the right reasons.
A bigger mystery is whether Stephen's long-missing father is still alive after recording a video in which he tells his still resentful son, "Truth is there's only one thing you can trust. You." Which seems to rule out trusting dad.
There's enough set in motion here to perhaps lure a small, loyal audience from week to week. Small and loyal is all The CW has going for it. Even its biggest new "success" from last season,
Arrow
, averaged fewer than four million viewers per episode.
That kind of week-to-week audience appeal would kill
Agents of S.H.I.E.L.D.
well before midseason. But on The CW, there'd be many tomorrows for
The Tomorrow People
.
GRADE:
C+
Email comments or questions to:
unclebarky@verizon.net