Fox's Sit Down, Shut Up is best watched on "Mute"
04/17/09 11:33 AM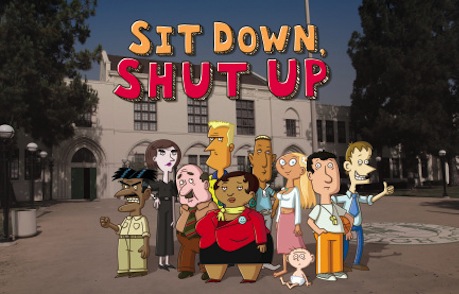 Premiering:
Sunday, April 19th at 7:30 p.m. (central) on Fox
Featuring voice-overs from:
Jason Bateman, Will Arnett, Kristin Chenoweth, Kenan Thompson, Will Forte, Cheri Oteri, Henry Winkler, Nick Kroll, Tom Kenny
Produced by:
Mitchell Hurwitz, Eric and Kim Tannenbum, Josh Weinstein
By ED BARK
Attention must be paid to Fox's
Sit Down, Shut Up
, if only because its behind-the-camera architects include Mitchell Hurwitz of
Arrested Development
and Eric and Kim Tannenbum from
Two and a Half Men
.
The voiceover talent is eye-catching, too. Jason Bateman and Will Arnett are
Arrested Development
alums. Kenan Thompson and Will Forte are current
Saturday Night Live
cast members, and Cheri Oteri used to be one. There's also ubiquitous Kristen Chenoweth, last seen in ABC's canceled
Pushing Daisies
, and evergreen Henry Winkler.
Put them all together and then try to pick up the pieces.
Sit Down, Shut Up
, an animated comedy series set in a Florida high school, does little more than just lay there. It's a jumble of misfits and misfiring jokes, including the one about how acting principal Sue Sezno's (Thompson) catch-phrase is "No."
There's also reluctant gym teacher Larry Littlejunk (Bateman), who has a crush on a cosmic science teacher named Miracle Grohe (Chenoweth). Winkler chips in as bald, runt-ish German teacher Willard Deutschebog, who's prone to buying X-rated magazines dubbed "The Filthies." Oteri voices plain-faced, asexual Helen Klench, Forte is vice principal Stuart Proszakian and Arnett plays self-loving English teacher Ennis Hofftard.
Adapted from an Australian series, Sunday's aimless opener otherwise is built around a hidden cache of performance-enhancing drugs and rumors that a teacher is going to be fired.
Some of the show's animation is set against live action backdrops, as in the picture above. That's supposed to make
Sit Down, Shut Up
look distinctive. But a clunker's a clunker, even in times of grade inflation.
GRADE:
C-minus (on the curve), but otherwise a D